This is an archived article and the information in the article may be outdated. Please look at the time stamp on the story to see when it was last updated.
HUNTSVILLE, Ala. (WHNT) The suspect in the Tuesday morning shooting in Tuscaloosa faces 18 attempted murder charges, but this is not the first time he has had run-ins with law enforcement.
 
Tuscaloosa Police have confirmed that Nathan Van Wilkins has been charged with 18 counts of attempted murder, one count of shooting into occupied dwelling, and one count of shooting into an occupied building. His bond is now set at $2,000,000.
WHNT News 19 obtained Alabama court records from as far back as the 1980's. Wilkins has spent time in jail and has been on and off of probation for charges ranging from robbery to reckless driving.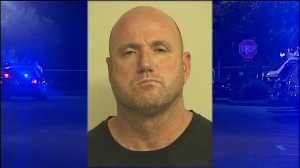 Wilkins pleaded guilty to robbery and theft charges in 1988. He has been in trouble for  reckless driving and speeding several times and has a criminal surveillance charge.
WHNT News 19 has crews covering multiple angles of this story.  We are aggressively working to get more information — stay with WHNT.com for updates.