This is an archived article and the information in the article may be outdated. Please look at the time stamp on the story to see when it was last updated.
TUSCUMBIA, Ala. – The third capital murder suspect and by some accounts, the shooter of a Tuscumbia teen, appeared in court Friday morning.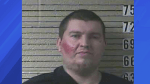 Attorneys for Benjamin Young requested a preliminary hearing to see just what evidence law enforcement had on their client.
Prosecutors wasted no time calling Tuscumbia investigator Wes Holland to the stand.
Holland has worked the shooting death of Kijana Freeman since March 1st, the night Freeman was ambushed at Spring Creek Apartments.
Holland said Freeman was expecting to meet someone to sell an Xbox that night.  Instead, a white Dodge truck pulled up behind his car, two men jumped out and started firing shots at Freeman.
Holland said 12 bullet holes were found in the driver's side.
Freeman died at Helen Keller Hospital shortly after arrival.
When questioned by defense attorneys, Holland stated an informant came forward saying Benjamin Young, Peter Capote and Thomas Hubbard had bragged about shooting Freeman the next day.
While watching Hubbard's home, police attempted to pull over Young as he left. Instead he led police on a high-speed chase into Tennessee.
According to investigators, Hubbard had thought Freeman stole an Xbox from him during a burglary and devised a plan to hurt Freeman.
Investigator Holland stated, the same informant which pointed to the three men, also identified Young as the driver of the truck the night of the shooting and Capote as the passenger.
Holland said in surveillance video, they can see a third person open a door in the truck during the shooting.
All three cases have now been bound over to upcoming grand juries. There's no word yet on when that will happen.
The three men remain in the Colbert County Jail without bond.