This is an archived article and the information in the article may be outdated. Please look at the time stamp on the story to see when it was last updated.
FLORENCE, Ala. (WHNT) - Officers at the Florence Police Department have had many questions from the community about when fireworks are allowed in the city.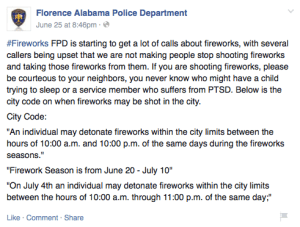 They took to social media to remind folks about the ordinance, and clear up any haze.
"I just think there's a lot of misinformation that's out there right now about what the ordinances are in the city of Florence on when you can fire fireworks and when you can't," explained Sgt. Brad Holmes.
He said firework season in Florence runs from June 20 to July 10. It's legal in the city to fire those fireworks between 10:00 a.m. and 10:00 p.m.
Only on July 4, the time is extended by an hour. You're allowed to fire them off until 11:00 at night.
However, before you light the fuse, keep your neighbors in mind, know what's going on in their lives .
"We see a lot of veterans that come back into our community that are suffering from PTSD and those fireworks bring back those memories from being in wartime situations," Holmes stressed. "Families may have young children who are trying to sleep, or someone may have to wake up early the next morning. We just ask that you be courteous."
They also ask that you be cautious. Holmes is a bomb technician with the department, and knows the danger potential if fireworks are tampered with.
"Don't modify those fireworks in any way, and use them they way they are designed."
Don't forget to keep a close eye on small children. If you want to read the city ordinance on fireworks, click here.