This is an archived article and the information in the article may be outdated. Please look at the time stamp on the story to see when it was last updated.
SHEFFIELD, Ala. –  For quite a while, an entire neighborhood would cringe every time it rained. After contacting WHNT News 19 in July, their problem with flooding has been resolved.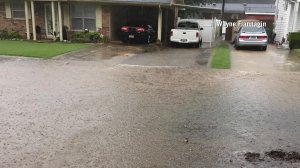 When it rained, residents along Shoals Avenue knew they could expect flooding on the road and around their homes. They were convinced there had to be a problem with the drainage system.
The pictures were astonishing: Up to 20 inches of water standing in their yards.
"The water was at least knee-deep in my backyard, in my side yard. It was standing everywhere. It was awful," stated Rebecca Southard in July.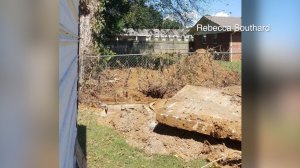 The Shoals Avenue residents' cry for help was heard at city hall. Tommy Barnes with Sheffield Utilities led the team trying to come up with a solution.
"When I witnessed what they were going through and some of the potential damage to the homes, we jumped right on it," said Barnes.
Last week Sheffield Utilities completed the project. What they found after some exploration was a major clog. 25 to 30 feet of 24-inch pipe was blocked by years of debris. Some of the items found in the storm drain were buckets, bottles, cans, yard debris and tree limbs.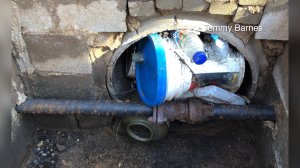 The likely culprit was also unearthed.
"It may have been back in the 50s or 60s where a cast iron natural gas line that had been abandoned, had been bored through the storm drain," explained Barnes.
After Wednesday's downpours, the streets and yards are clear from standing water.
WHNT News 19 spoke with Rebecca Southard on the phone on Wednesday. She was extremely excited not to have to deal with flooding along Shoals Avenue for the first time in months.