This is an archived article and the information in the article may be outdated. Please look at the time stamp on the story to see when it was last updated.
TOWN CREEK, Ala. (WHNT) -  With veterans on our minds this week, one woman in the Shoals area is hoping the attention on soldiers may help to reunite own with a lost ring.
Melissa Grimes has been trying to track down the owner of a Unites States Air Force ring since May. She hasn't had any luck with pawn shops or social media, so she turned to WHNT News 19.
"My daddy was in the Air Force and it's a military ring," Grimes explained. "I just feel like somebody lost it; it's probably important to somebody."
Grimes said a friend brought it to her in May after finding it in a dirt field next to what is now 'Gas for Less' off Highway 157 in Hatton.
"She must think that because I run the online auction I can find the owner," she said. "When I find things like wallets or checkbooks at Walmart or anywhere, I always return them to the owners."
Grimes said one person has already reached out to buy the ring from her. That's not her mission here.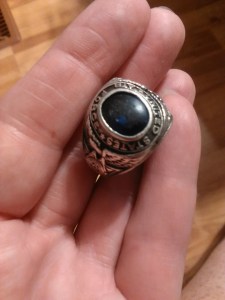 "I'd like to find who it belongs to. Even if that person is no longer here, maybe his kids or grandkids or someone, it means something to them. I think it would be a treasure for someone."
Unfortunately, the members at the American Legion Post #11 in Florence said the Air Force ring is pretty standard. No name. No initials. No numbers. It just has the letters UNCAS inscribed on the inside, a common military ring manufacturer.
"Even if it takes ten years, I will not sell this ring."
If you know who may have lost their air force ring in Hatton earlier this year, email us!
You can reach out to Catherine Awasthi at catherine.awasthi@whnt.com.