This is an archived article and the information in the article may be outdated. Please look at the time stamp on the story to see when it was last updated.
CHEROKEE, Ala. (WHNT) -   Neighbors in Cherokee have more questions about the water in their town.
They've reached to WHNT News 19 for some answers, once again. They asked for help getting to the bottom of a very interesting water quality report.
"When it said Joe Jones call at 555-1234, or John Smith as our water quality supervisors, we don't have water quality supervisors," explained Kathy Powell, a Cherokee resident. " We don't have an Elm Street. We don't have a Highway 16."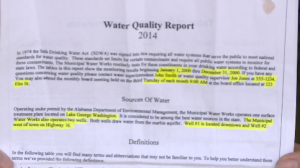 Powell was reading through the first paragraph of their 2014 town water quality report, and knew something wasn't right.
"I didn't know if this was a prank or some type of joke, but I'd like to get to the bottom of it."
Powell and other Cherokee neighbors pulled a pretty obviously incorrect water quality report straight from their mail boxes. The phone numbers were off, as were the addresses and even the number of wells in the town.
"We use a template that we add our information into," explained Cherokee water operator Chris Pitts. "We were focused on getting it done in a certain amount of time, because we had to have it done on a certain day. And we just overlooked the information at the top."
It was a clerical error. The Alabama Department of Environmental Management said that happens.
About a week later, another water quality report was in Powell's mailbox, with the correct mayor's name, number and locations. The numbers in the reports also matched.
"You don't know whether to believe it or not, you have to question it," Powell said.
The letter also mentioned a monitoring violation, raising some concern. But, neighbors said they were having trouble clarifying the report.
Pitts assumed the position of water operator in February. He says the listed violation occurred under the previous water board administration.
"The violation was them not testing for lead and copper. ADEM requires us to test for lead and copper this year," he said.
Pitts says the 2014 testing results are correct. Cherokee's water is safe to drink.
"If it wasn't, we would be under a violation from ADEM, and we would be forced to let everyone know."
Workers with Cherokee's water department sent in the tests for copper and lead in the town's water this week. The results should be in in a couple of weeks.
Click here for previous coverage of Cherokee's water department.