This is an archived article and the information in the article may be outdated. Please look at the time stamp on the story to see when it was last updated.
SHEFFIELD, Ala. -- The Sheffield City Council was the first local government to adopt a smoke-free air ordinance in northwest Alabama. Those who pushed for it in Sheffield are now taking their message to other cities and towns.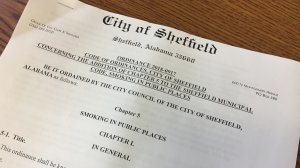 It's a fourteen-page document which goes into effect on October 31. Essentially, the Sheffield Smoke-Free Air Ordinance prohibits smoking in restaurants, city-owned spaces, private clubs and vehicles with minors.
"We see a positive in economics; we see a decrease in health distress and respiratory distress and cardiovascular distress," stated Melanie Dickens, the SmokeFree Shoals coordinator for the Alabama Department of Public Health.
Dickens pushed for the Sheffield City Council to pass the ordinance, and they did so with a vote of 4 to 2. She's now preparing to present smoke-free air ordinances to other city councils across the Shoals who have outdated ordinances.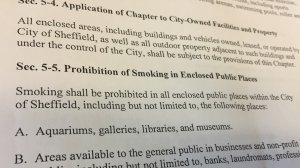 "We're doing it across the state," explained Dickens. "Some have had them for so long they are not doing what they need to be doing."
There has been a kickback to the newly adopted Sheffield ordinance. A social media page called "Boycott Sheffield" has gone live. They are asking people to stop going to Sheffield businesses, due to the city councils prohibition. Dickens says the intent of the ordinance is not to hurt privately owned businesses.
WHNT News19 has been told, attorneys representing private business owners in Sheffield could be filing for an injunction to keep the ordinance or portions of it from going into effect. No court documents have been filed just yet.
According to the SmokeFree Shoals coordinator, Decatur, Jasper and Walker County have comprehensive non-smoking ordinances on the books. Huntsville, Madison and Tuscaloosa are reviewing comprehensive ordinances.