This is an archived article and the information in the article may be outdated. Please look at the time stamp on the story to see when it was last updated.
FLORENCE, Ala. – The battle to free victims from domestic violence took a giant step forward in northwest Alabama just three years ago. The community banded together to open One Place of the Shoals, a family justice center. The agency's commitment is changing lives.
Behind the secure door at One Place of the Shoals, the first step to taking back one's life begins.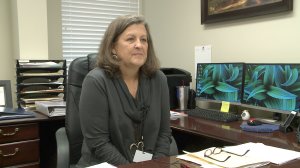 "Often times, people who are in an abusive relationship, they're abuser is a controller and they haven't had the right to make the decisions. We want to give them that right to do that," explained Elizabeth Moore, the Executive Director of One Place.
Inside the facility law enforcement, prosecutors, Safe Place and other groups work to help victims of domestic violence and sexual assault. It was the second facility of its kind across the state when they opened in 2014.
"Prior to One Place, clients had to go from place to place to place to get the services that they needed and sometimes they would drop out in the process," said Moore.
In three years, Moore said 9,000 clients have come through the door reaching out for help.
"There is demand, and there is still people that are out there and they are still in abusive relationships that haven't been ready to take the step to ask what help is available."
Through partnerships, six counties in northwest Alabama utilize their services.
One Place of the Shoals reached a milestone this week. Tuesday night, founders had a "Burn the Note" celebration, meaning their facility is paid-off and mortgage free.