This is an archived article and the information in the article may be outdated. Please look at the time stamp on the story to see when it was last updated.
FLORENCE, Ala. (WHNT) – A pastor in the Shoals wanted to remind others of the true spirit of giving during the holiday season.
To inspire others, pastor Mike Westfall of Grace Crossroad Church in Florence shared a story of Christmas past.
"We wanted to bless somebody this time, those who bless others," Westfall said. "We wanted to be a blessing to them."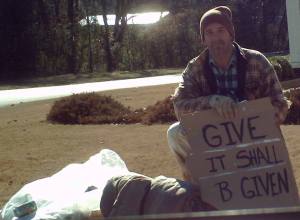 There's a familiar saying that resonates this time of year,"give, it shall be given." With a sign in hand displaying those words, Westfall disguised himself as homeless. He stood out on the street corner in front of his church in the cold on Christmas waiting for anyone to stop, to give.
"The ones that were good Samaritans weren't the same color as this Samaritan," pastor Westfall explained. "They were of different race and cultures. They weren't driving the higher end cars or vehicles or wearing the brand name clothes. They were common and could I say even below the moderate means."
He said the givers were the elderly, the disabled, the young, the ones on fixed income. They were a little boy offering up Christmas money and even someone who understood, someone who was once homeless.
"She had seen me standing on the corner and she went to get a bag of groceries, and knew just where I was at. Unknowingly, I wanted to give her a gift. So, there's a lot of good people, on a good day to come by and bless others. And, by those blessing others, they allowed me to bless them."
Pastor Westfall handed each good Samaritan their money back, plus a little token of his appreciation. He said many were so shocked they were in tears.
"Give, and it shall be given."
He said he may have plans to share this message again this Christmas, but, it will be a surprise.