This is an archived article and the information in the article may be outdated. Please look at the time stamp on the story to see when it was last updated.
TUSCUMBIA, Ala. – Christmas has come early for hundreds of teachers in Colbert County. A group of primary care physicians came together to give teachers the supplies they need for their classrooms.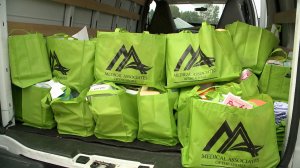 White panel vans make all sorts of deliveries for businesses. On Wednesday morning, a special van pulled into the parking lot of Deshler High School packed full of bright green bags. They contain items that teachers spend a lot of their own money on each year.
"Usually, teachers do what we need to do for our students," said Deshler High School teacher Patrice Brown.
The bags are part of an outreach by Medical Associates of the Shoals. "Doctors and Teachers in Harmony" is in its second year. A total of 700 gift bags will be presented to teachers at every school across Colbert County.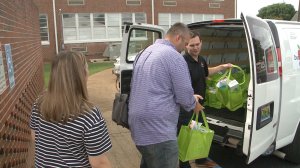 "We also know better education almost always leads to a better quality of life. A better quality of life leads to better health, and that is ultimately what we are hoping for for the people in the communities we serve," explained Julia Boughner, a Medical Associates of the Shoals representative.
Boughner said it's a way to show their gratitude to the people who help shape minds.
"Our schools need all of our community's support," stated Brown. "We're trying to do our best to educate our kids and get them college and career ready. So, anything our community can do to support our children we completely accept and appreciate."
And judging by the smiles on their faces, the gifts will go to good use.
The delivery of supplies has been taking place during professional development days in the Colbert County school districts. Teachers in Sheffield City Schools will be receiving their bags on November 16.