This is an archived article and the information in the article may be outdated. Please look at the time stamp on the story to see when it was last updated.
SHEFFIELD, Ala. -- Multiple police agencies in the Shoals are investigating a bizarre social media post.
Sheffield Police Chief Greg Ray said he started getting calls at home on Sunday night about outraged locals calling in about what a Sheffield man posted on social media. And the pictures in question-- even Chief Ray called shocking.
"The puppy was in his lap, pointing a gun to the puppies head. There were some comments made that you know I certainly don't want to give out over the air that was on his Facebook page. It was just nauseating what you saw," explained Chief Ray.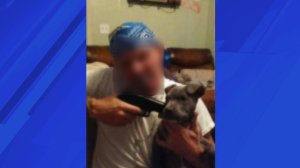 Sparked by public concern, Chief Ray assigned two investigators to the case Tuesday morning.
Ray said they have identified the man, even confirming through family members it was him.
Chief Ray said they must now find out when and where the pictures were taken, and if in fact the gun was real.
"Is this a criminal act? Certainly it shocks the soul if you will, but is it criminal? I hope it is, I think it is, but that will certainly be up to a prosecutor to tell us that," Ray stated.
Chief Ray hopes to get more of those facts and present their evidence to the district attorney's office for a final judgment on whether or not to charge the man who posted the pictures.
The Florence Police Department has been called in to assist in this investigation, in case the incident actually happened inside their jurisdiction.
For the latest information on the investigation, stay with WHNT News 19.