This is an archived article and the information in the article may be outdated. Please look at the time stamp on the story to see when it was last updated.
FLORENCE, Ala. (WHNT)-  Lauderdale County investigators have located a missing woman and her three children.
According to investigators, Ashlee Wilson, 28, was missing since Thursday, June 12.  Wilson's three children were also missing.  They are Bailey Wilson, 9, Alivia Wilson, 7, and Zoey Wilson, 5.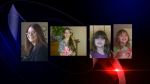 Deputies say phone calls and text messages to Wilson's phone went unanswered.
An investigator with the Lauderdale County Sheriff's Office reported Wilson and her children to be located and safe Monday.
Wilson contacted a family member and was able to meet up. The children are currently in the custody of their grandparents.
Thank you to everyone who shared this story on social media.