This is an archived article and the information in the article may be outdated. Please look at the time stamp on the story to see when it was last updated.
LAUDERDALE COUNTY, Ala. – It's been a difficult week for friends and family of Florence attorney Jean Darby.  She passed away over the weekend after collapsing inside a Lauderdale County courtroom earlier in the week. Thursday afternoon, friends and family met in the same courtroom to remember her.
A candle and simple flower arrangement at the courtroom door sat as a fitting tribute to Jean Darby. Many described her as a passionate person, one who cared deeply about those in need.
"We could all learn from the examples she set," stated Circuit Judge Gil Self. "She's a shining example of why I and so many others consider this a noble profession."
At one o'clock, dozens gathered in the fifth-floor courtroom where she gave her final argument.
District Attorney Chris Connolly was the prosecutor going head to head with Darby.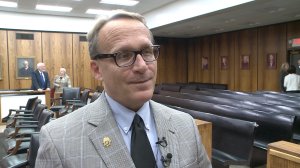 "You just can't get it out of your mind," explained Connolly. "You can't not think about what happened, it was such a shock to everybody. It's been tough and it is still tough."
Jean Darby loved the courtroom. In the 80's she worked for the DA's office in Lauderdale County. But she felt a different calling, making sure everyone got a fair defense.
"She liked the underdogs," said Judge Self. "The marginalized in our community has lost an ally. She was tenacious, didn't let anything slide."
Judge Self said he has already reassigned all of Darby's cases to other attorneys. He says that is something she would have wanted.
Friends of Jean Darby said she passed away due to dangerously low potassium levels in her body. She was 64 years old.