This is an archived article and the information in the article may be outdated. Please look at the time stamp on the story to see when it was last updated.
FLORENCE, Ala. - The Florence City School Board has selected who they want to lead the school system forward. Of the four finalists, they decided to keep leadership in the family.
Jimmy Shaw will be moving to the other end of the hall in the school system's central office. Shaw, an Assistant Superintendent in Florence City Schools, has been chosen as the next superintendent. The board of six voted four in favor with two abstentions Thursday afternoon.
One other finalist, Boyd English of Crenshaw County Schools was nominated but failed to reach a majority vote.
Shaw received overwhelming support from current school system staff.
"To know that my peers have a belief that I can help lead them to the next level has been the greatest thing," stated Shaw. "Because truly they do the work, we lead and cast vision but they do the work. So that's awesome."
Shaw, who has been overseeing classroom instruction for the central office, said students are getting a great education but its time to become even better.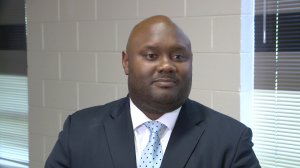 However, Shaw said they have a lot of healing to do across the school system after a very difficult time.
"We have had a pretty tumultuous five months and it is time for us to go back, get back to basics, have some conversations about how they are feeling about some things; find our middle ground, come up with a plan that we all agree on and get back to work."
Shaw and the school board now begin contract negotiations. They hope to have those wrapped up and ready for approval by the next board meeting which is on May 9.
Until approved, Shaw will remain in his capacity as an Assistant Superintendent and Connie Wallace will continue her work as Interim Superintendent.