This is an archived article and the information in the article may be outdated. Please look at the time stamp on the story to see when it was last updated.
FLORENCE, Ala. – Several students at Florence High School participated in an important video chat Tuesday morning. They were able to get an update on happenings in Washington D.C. and directly ask questions of U.S. Senator Doug Jones. This is the second time the Senator has cleared his schedule to speak with high school students, and subjects covered the spectrum.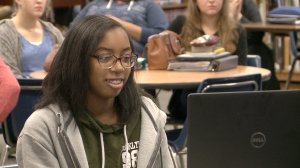 "This is a place where tariffs like that can definitely affect the economy in our state and the prices of stuff in the state," explained student John Methvin. "So, I think it is really important that it gets a lot of coverage."
Senior Jalen Rice covered several topics with the senator. Health care, training of police officers, and the lack of funding for performing arts inside in school systems were just some of them.
"It's all happening in my immediate area," stated Rice. "Like mental health issues, there are people down the street who have mental health issues and no one is helping them. There's police; the police are great here, but when I go to other places to visit the police are not good at all."
The high school economics students paid close attention to Senator Jones' answers; they felt he handled them pretty well. Even Maddy Jones who is looking to get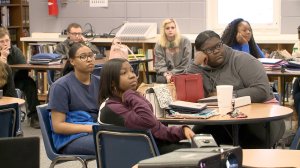 involved with politics at a young age.
"Because he kind of told us to just get out there, which is something that I had never really been told before," said Jones. "I mean I've been told before, but to hear it to just go out there and do it, is really, it's kind of a relief."
Our possible leaders of tomorrow getting a behind the scenes look into Washington D.C.
Administrators at Florence High School said this is the first time a sitting Senator has taken the time to speak with students in a small group atmosphere. They hope to make this a regular occurrence.