This is an archived article and the information in the article may be outdated. Please look at the time stamp on the story to see when it was last updated.
FLORENCE, Ala. – Public libraries are typically not somewhere you would consider a high crime area. But one Shoals library has hired off-duty officers to patrol the hallways after a couple of drug-related incidents.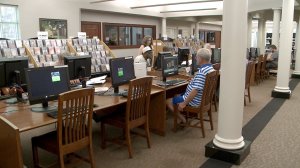 When you think of summertime at a public library reading events with young kids may come to mind. And that's exactly what is going on at the Florence-Lauderdale Public Library. In fact, every day hundreds of people come here for research or just a place to cool off.
"We are a public building and anybody is welcome to come here and we want it to stay that way. We do have a code of conduct though that we want people to follow," stated Interim Library Director Abby Carpenter.
There have been a couple of instances where people haven't followed that code of conduct; which led to the need for a change.
"Drug paraphernalia and things that we felt like we needed to address," Carpenter explained.   Over the last couple of weeks, drug-related items have been located in public restrooms at the library. Starting this week, sheriff's deputies and Florence police officers are here as a deterrent.
"To have that extra added security and enforce our rules and things to make everyone feel comfortable," Carpenter said.
Carpenter says they will keep the officers patrolling for one year and re-evaluate their effectiveness to determine if they want to continue with a law enforcement presence.
The cost of paying the off-duty officers at the library is being split between the city of Florence, the Lauderdale County Commission, and the library board of directors.