This is an archived article and the information in the article may be outdated. Please look at the time stamp on the story to see when it was last updated.
FLORENCE, Ala. – Students will not be the only one's getting report cards at the end of this semester. According to the state superintendent, so too will the school system's.
This move has school superintendents across Alabama asking more questions than they can get answers.
In 2012, legislators approved a bill which would give each public school in the state a grade on their performance. Since then, a task force has worked to create the report cards.
The trouble superintendents like Florence's Janet Womack has, it's unclear what the graders are looking at.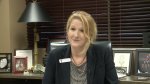 "I don't think you will find any superintendent in Alabama that says we should not be held accountable for the achievement of our students. It is the process and all of the unknowns," Womack explained.
Last week, the state school board stopped short of moving forward with releasing grades, stating they wanted more time to evaluate the grading system.
State Superintendent Michael Sentance said this week they are moving forward with releasing grades in December.
Womack said school systems are shooting at a blind target with this new grading system.
"I would not be sitting in this seat if I did the same thing that's unfolding at the state level; if I took and applied that to my community and the schools," stated Womack.
And by using last year's data to grade a school system on what they are doing this year boggles many superintendents.
The purpose of the school grading system is to give parents a clearer view of what's going on within their schools, compared to other schools.
Legislators have said schools performed better in other states in which grades are released.