This is an archived article and the information in the article may be outdated. Please look at the time stamp on the story to see when it was last updated.
RUSSELLVILLE, Ala. (WHNT) – WHNT News 19 is Taking Action to get answers about a city eliminating dozens of geese at a popular lake.
Our email and social media has been flooded since Wednesday questioning why Russellville Police were shooting geese at Sloss Lake.
It's one of the most peaceful spots in the city of Russellville. That's why people were so shocked at the sight of a police officer on the water Wednesday shooting the water fowl.
Police chief Chris Hargett said the taking of geese was done only after being permitted by the Alabama Department of Conservation.
"It's not that we were out there just doing it to have fun or anything like that," stated Hargett. "It's truly a safety and health issue. If you go out there and you just walk around, you can't walk without stepping in it."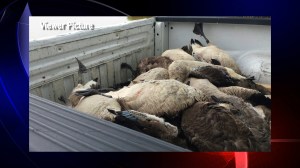 Hargett said they expect 10,000 people to be at Sloss Lake this Saturday for Fourth of July festivities. He said the city has tried to relocate the birds in the past, but they would simply return.
Chief Hargett said the shooting of 52 geese was the only way they could control the population.
"There are still birds out there now. We didn't take them all completely out," Hargett explained. "I mean, there is still as many out there as we took, but we tried to decrease it so maybe it's not such an issue."
And Hargett said they will face the same dilemma next year after the mating season.
According to the Alabama Department of Conservation, the city of Russellville is permitted to eliminate up to 150 geese at Sloss Lake.
Hargett also said the public was not in any danger during the discharging of their weapons.