This is an archived article and the information in the article may be outdated. Please look at the time stamp on the story to see when it was last updated.
RUSSELLVILLE, Ala. (WHNT) – Moments after a routine inspection of Budget Inn earlier this week, the owner and inn keeper were both placed under arrest by the State Fire Marshal's Office.
Both Sachindra Ram Jibhai Bhagat and Harivadanbhat Madhavbhai Patel are charged with reckless endangerment and violation of the duty of a hotel owner and operator.
"Basically dealing with smoke detectors, having a plan in place of inspections, testing and changing batteries, things like that," Russellville Fire Marshal Justin Green explained.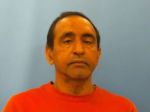 Green has had numerous dealings with both the owner and manager since 2014.
In October, Green and a Deputy State Fire Marshal inspected the motel and found numerous violations.
"We had several code violations as far as smoke detectors and then there were people staying there over 30 days."
Green added they were warned at that time to get things fixed.
"Just trying to make sure who ever stays there is safe and we don't have any fire fatalities or anything like that. It's really what my main job is," stated Green.
The owner has voluntarily shut-down the motel and is working with the State Fire Marshal's Office to bring the facility up to code.
This week's inspection also uncovered combustibles being piled up in rooms and the illegal storage of items in vacant rooms.
Both charges the men face are misdemeanors and will be handled in Franklin County District Court.