This is an archived article and the information in the article may be outdated. Please look at the time stamp on the story to see when it was last updated.
PARIS  – Students from Russellville High School have achieved international success — after winning the Team American Rocketry Challenge last month, they went on to win the world finals at the Paris Air Show!
The team learned the news Friday.  Seven students from the Russellville City Schools Rockets and Robots Club represented America, and was sponsored by Raytheon. They beat teams from the United Kingdom, who came in second place, and France, who took home third.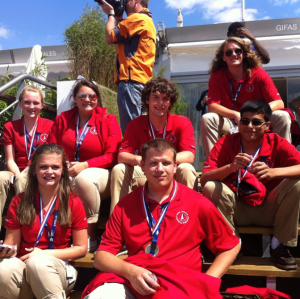 The winning team members were Cristian Ruiz, 16; Niles Butts, 17; Andrew Heath, 17; Katie Burns, 13; Evan Swinney, 18; Cady Studdard, 14; and Chelsea Suddith, 15. The team achieved a winning flight score of 49.53 and logged an altitude of 824 feet.
"I'm just so proud for them because they've worked really hard for this," smiled Andrew's mother Debbie Alexander, "and they deserve it."
"They've spent countless hours and long nights for this accomplishment," said Evan's mother Lynn. "Those who aren't a part of the rocket and robots club don't understand that."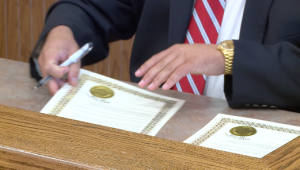 Parents were fighting back tears while Russellville Mayor David Grissom signed a proclamation declaring June 19, 2015 'Russellville City Schools Engineering Rocket Team' day.
"That doesn't happen around here," said Alexander. "That's huge".
City councilman and Franklin County engineer David Palmer was especially proud. He said it's very important to the community to be able to honor the rocket club just as they do their athletes.
"I actually get very emotional when I talk about this because I am an engineer," Palmer said, "and I've always said we have the smartest kids in the world."
The students return from Paris Sunday at 5:30 if you want to welcome back the champions. Governor Robert Bentley wants to meet with the team next month.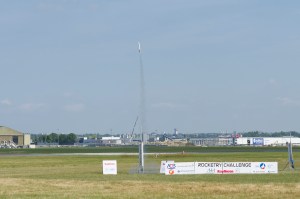 "I can't begin to tell you how proud I am of this remarkable group of young people from Russellville," said the area's Congressman Robert Aderholt (R-AL4). "I had the honor to meet with them in Washington right before they won the Team America Rocketry Challenge. I could tell from talking with them and hearing about the rockets they were building that this group was destined for great things."
Mayor Grissom also joked that his next move is to bring the U.S. Space and Rocket Center to Russellville.
"At least we need to annex it in," he smiled.
Congratulations Russellville Tigers for this phenomenal victory!
Russellville's team learns they won! Photo provided by Congressman Robert Aderholt's office)

Russellville's team celebrates the international win at the Paris Air Show. (Photo provided by Congressman Robert Aderholt's office)

Some of the rockets in the competition Russellville's team celebrates the international win at the Paris Air Show. (Photo provided by Congressman Robert Aderholt's office)

Russellville's team celebrates the international win at the Paris Air Show. (Photo provided by Congressman Robert Aderholt's office)