This is an archived article and the information in the article may be outdated. Please look at the time stamp on the story to see when it was last updated.
RUSSELLVILLE, Ala. – WHNT News 19 is continuing to follow a bizarre story out of downtown Russellville this evening. A building owner and his 6-year-old grandson escaped major injury after the front of a building gave way Wednesday afternoon.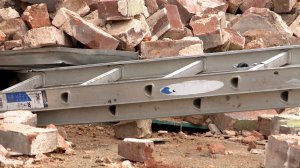 The scene is jaw-dropping. Three stories of bricks fell from the front of the 100-plus-year-old Sherman Department Store building in downtown Russellville. Building owner Wayne Miller was 18-feet up on a ladder when the bricks came tumbling down.
"When I hit the ground, I was trying to get untangled from the ladder so I could find him," Miller recalled. "Smoke and debris was so thick you couldn't see anything."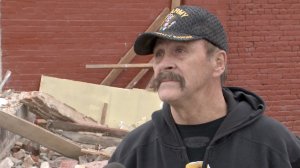 Miller's 6-year-old grandson was watching his granddad from the sidewalk. When the grandson heard the glass start to break he took off running. Both escaped injury.
"All I can say is I won the lottery. God blessed me and my grandson," said Miller. "My testimony is God is a good God, and undoubtedly he is not through with me yet."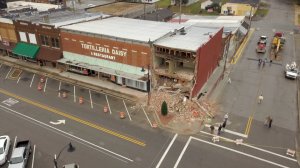 This building has served as the worship center for New Beginnings Church for several years. Miller serves as the pastor. As the result of an extended illness last year, maintenance on the building had been put off until recently. Miller says they were also forced to cancel their insurance last year, so this incident isn't covered.
"God will definitely take care of it," stated Miller. "He took care of me yesterday and he can take care of this church today. It's all in His hands."
Now it's up to a structural engineer on whether or not the building will be able to be saved.