This is an archived article and the information in the article may be outdated. Please look at the time stamp on the story to see when it was last updated.
SHEFFIELD, Ala. – For years now, residents in Colbert County have frowned upon lengthy trains coming through the heart of Sheffield and Muscle Shoals. But county leaders are now looking at the trains a bit different, they could hold the key to redevelopment.
Mounds of rubble sit atop acres of concrete slab in Sheffield. This is the former home of Southern Sash, an international manufacturer of doors and windows.
"At one time it was booming; at one time it was the area," stated Colbert County Engineer John Bedford.
According to Bedford says one of the biggest assets this property has is the Norfolk-Southern rail-line. He and other county leaders have highlighted property along the railroad which is primed for redevelopment.
"We know the trains are getting longer; we know we are getting more traffic, and they are getting longer and we are getting more traffic because it is a Fortune 300 company coming through here and we are not looking at them," Bedford said.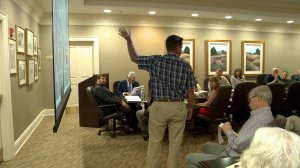 The Shoals Economic Development Authority has agreed to explore the possibilities this land holds. With major economic development happening to the east – Bedford says this a good time to market the property for distributors.
"They are talking maybe three or four more trains a day," Bedford explained about the future of rail delivery. "Again, that's another train coming through that is not stopping and letting us possibly load or unload products for our local manufacturers and local distributors. It's just a diamond in the rough."
And Bedford says the property owners have all agreed to sell if the right offer comes.
A sub-committee of the Shoals Economic Development Authority will be working with Colbert County leaders and Norfolk-Southern to further explore options in the Sheffield area.