This is an archived article and the information in the article may be outdated. Please look at the time stamp on the story to see when it was last updated.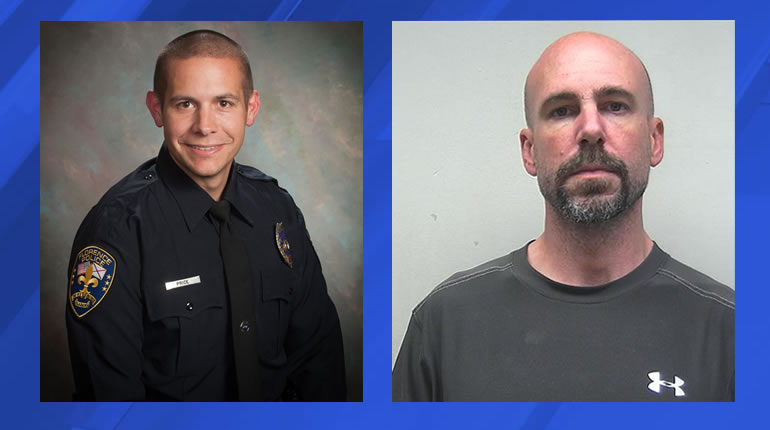 LAUDERDALE COUNTY, Ala. – Florence Police have released more information about an officer-involved shooting that happened Thursday near Chisholm Road in the Wilson area.  A detective shot a man who was caught driving a stolen truck.
Chief Ron Tyler said Detective Michael Price, a five-year veteran of the Florence Police Department, has been investigating a series of vehicle thefts in the community, from Florence to Wayne County.
Detective Sgt. Brad Holmes spotted what he believed was a stolen white Ford F-150 Lariat.  He called dispatch to have them run the tag, and confirmed the truck had been stolen from a church on Wednesday night.  The man driving the truck pulled into the Dollar General on Chisholm Road.  Sgt. Holmes pulled in behind the truck and requested backup from Detective Price, who was nearby.   Price pulled up and Holmes then walked up to the truck.
At that point, according to Chief Tyler, a man named Chris Kilpatrick got out of the driver's seat and ran.  Detective Price chased after him and Sgt. Holmes stayed with the two other men who were inside the truck, holding held them at gunpoint and calling for more backup.
Detective Price chased Kilpatrick north of the Dollar General, across County Road 298 into a wooded area.  Other officers pulled up around this time in that area to help.  Chief Tyler said the officers heard several gunshots being fired.
The officers ran into the wooded area west of County Road 289 and found Detective Price and Kilpatrick both on the ground.  The two men had a physical altercation.
Kilpatrick had a gunshot wound to his abdomen and had a weapon lying next to him, Chief Tyler said.  Officers secured the weapon, began to render aid to Kilpatrick and called paramedics.  Detective Price was not injured.
Chief Tyler said what exactly happened between Price and Kilpatrick will remain confidential as the Alabama Law Enforcement Agency investigates further.  However, Chief Tyler said he is familiar with the intimate details of what happened and said Detective Price and the other officers acted accordingly.
"Facing the immediate threat of deadly force, Price defended himself. He fired his weapon, striking Kilpatrick," said Chief Tyler.
"I am profoundly impressed with and pleased by the professional manner which our Florence police officers and detectives conducted themselves in this situation," said Tyler. "They exercised a great deal of restraint, compassion and self discipline."
Kilpatrick, the man shot, remains at ECM Hospital for treatment.  He is under 24-hour guard.
Chief Tyler said Kilpatrick has a long criminal history and was currently wanted for failing to return to work release for an assault conviction.  He had other charges pending before Thursday's incident and Tyler added he will likely now face more, including attempted murder of a law enforcement officer.
"Kilpatrick is 42. He has spent approximately 20 years of his life in prison already.  In the past, he has made threats to law enforcement officers," Tyler added.
The other two men held for questioning on Thursday have been released.  They are not charged at this point.
Detective Price is on paid administrative leave.
Police say the white Ford F-150 Lariat the men were in was stolen Wednesday, August 10 from the parking lot of Jacksonburg Church of Christ, on County Road 28 in Florence. The owners were there for Bible study, and the church's surveillance cameras caught the theft.
When asked if Kilpatrick was the man in the surveillance picture, Chief Tyler said ALEA is investigating that point further.