This is an archived article and the information in the article may be outdated. Please look at the time stamp on the story to see when it was last updated.
FRANKLIN COUNTY, Ala. – The suspect in a standoff with Russellville Police is dead after authorities say he secluded himself in a room. The man was discovered with what appeared to be a self-inficted wound after the house caught fire.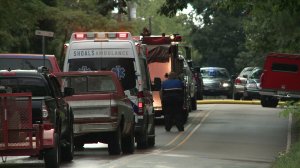 The standoff was at a home near Wilson Boulevard and Tim Street. It started around 10 a.m. when police were called to the home to investigate a domestic situation. The resident at the home was having problems with his grandson, according to Russellville Police Chief Chris Hargett.
Hargett said the suspect was armed and the situation progressed from there.
Police tried to talk with him throughout the day to try to calm him down, but Chief Hargett said the man never responded.
After the fire started late in the day, a SWAT team entered the house with a fire crew. That's when they found the man dead, Hargett said.
The State Fire Marshals Office is investigating the cause of the fire.
Authorities have not released the man's name.