This is an archived article and the information in the article may be outdated. Please look at the time stamp on the story to see when it was last updated.
COLBERT COUNTY, Ala. - A man has been arrested after leading deputies and police officers on a 45-minute chase. The chase ended behind Webster Elementary School in Muscle Shoals.
The chase was initiated by the Colbert County Sheriff's Office when they tried to pull over a driver who was behind the wheel of a stolen vehicle..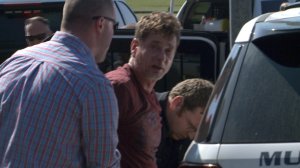 The driver identified as 48-year-old James Lee Holland refused to stop, and led law enforcement through eastern Colbert County and into west Lawrence County briefly. Holland then returned to Colbert County and eventually stopped behind the school.
Muscle Shoals police say during the chase, Holland rammed several patrol cars and almost ran over an officer.
Investigators say Holland is charged with theft of property, reckless endangerment, and criminal mischief. He has been booked into the Colbert County Jail.
Muscle Shoals Police Chief Clint Reck says the Colbert County District Attorney's Office could be adding additional charges since an officer's life was put in danger.
According to investigators, the vehicle was stolen at a convenience store on Second Street in Muscle Shoals early Tuesday morning.  WHNT News 19 spoke with the owner of the stolen vehicle shortly after the chase ended. He says he was glad no one got injured during the pursuit.