This is an archived article and the information in the article may be outdated. Please look at the time stamp on the story to see when it was last updated.
MUSCLE SHOALS, Ala. (WHNT) – Two years ago we introduced you to Shoals area photographer and makeup artist Amanda Chapman and her husband Greg. Amanda has an obsession with the most ghoulish 'holiday' of the year and gained international attention when she painted herself up as a different character for the entire month of October with her '31 Days of Halloween' series.
Amanda's amazing work not only belies her love for Halloween but also her talent as a visual artist. But, there is also a more personal and poignant inspiration behind her creations.
Despite his diagnosis with Non-Hodgkin's Lymphoma, Greg encouraged Amanda to continue with her creative endeavors and passions.
Chapman says when husband Greg first received the news he was a little reticent to participate in Halloween festivities as the family had done so whole-heartedly in years past.  Following his diagnosis, Chapman found Halloween imagery — the graves, zombies and rotting corpses — to be a bit too morbid.
"It hit too close to home for him and for us," says Amanda.
Luckily for Chapman and her thousands of Facebook followers and fans, Greg had a change of heart.
"I knew how happy it made her and our family needed that light and that laughter," said Greg.
"It's like he gave me permission to celebrate," remembers Amanda, "and I just took that and ran with it."
Luckily Greg went three years treatment free.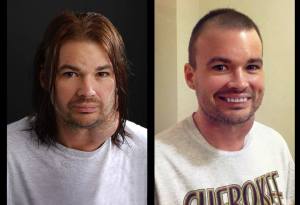 But he is now in the battle for his life. Recently Greg's body began undergoing rapid changes and the cancer has now progressed to a more aggressive B-cell lymphoma and has moved into his stomach. Bone marrow biopsies have also been done. He is presently hospitalized at the Sarah Cannon Cancer Center in Nashville, Tennessee. Doctors there were unable to find a bone marrow donor, therefore millions of his own stem cells were removed and as of Sept. 15 he was admitted for three days of heavy radiation followed by a stem cell 're-birth;' a process that can take anywhere from 30 to 100 days of hospitalization.
As you can see below though, Greg is in great spirits.
The family, including the Chapman's 2 children Ethan and Amberlyn, is having to deal with the reality that the cancer is viciously taking a toll on Greg's body. Greg's medical expenses, as well as the out-of-pocket expenses the Chapman family will endure, will most certainly exceed what Greg's insurance will pay. Amanda and Greg's mothers took classes to be his sole caregivers. Despite the hardships, Amanda insists on continuing her '31 Days Of Halloween' since Greg's diagnosis is what persuaded her to be the woman behind the mask.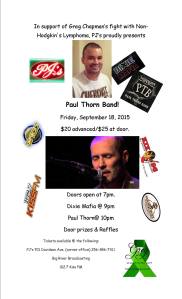 Over the past few months friends, family and local businesses have come together to raise money for their traveling expenses three to five times a week.  Three weeks ago, Amanda's sister LaShawn Tuttle along with her friend James McMahill, owner of PJ's Dance Club in Muscle Shoals reached out to singer/songwriter Paul Thorn and Manager Billy Maddox about performing a benefit support concert. Without hesitation, Paul, Billy and the band were on board. Paul had a few vacation days before continuing his 2 Blessed 2 Be Stressed Tour and with only three weeks before show time, friends and the whole Quad Cities community began preparing for the September 18th support show.
The night will begin with fellowship at a meet and greet hosted by Natchez Trace Harley Davidson. The doors at PJ's will open at 7 p.m. with raffle tickets sold for prizes to be given throughout the night from over 70 local business — everything from locally owned boutiques, restaurants and jewelers. At 9p.m. PJ's house band featuring Marty Lewis & The Dixie Mafia will take the stage followed by Paul Thorn at 10 p.m. Tickets are $25 at the door and sales will benefit the Chapman family.
You can also contribute to a Gofundme account for Greg's medical expenses.