This is an archived article and the information in the article may be outdated. Please look at the time stamp on the story to see when it was last updated.
LAUDERDALE COUNTY, Ala. – The unselfish actions of a Lauderdale County woman have saved a life. This story has been getting a lot of attention on social media. Kayla Smith spotted an owl in life-threatening danger and jumped in to help. She still can't believe it happened.
"I have an obsession with owls," Smith said. "Me and my girls both do."
As Kayla was taking her children to school Monday morning they spotted a barn owl entangled in a barb-wire fence. Kayla said she couldn't get back to the owl fast enough after dropping the kids off.
"When I first got up there to him, you could tell that he was very scared. He was doing his wings real frantically and everything."
Shortly after stopping on County Road 25 two more residents pulled up. They were able to free the owl by cutting the fence, but he still had a piece of wire lodged in the wing.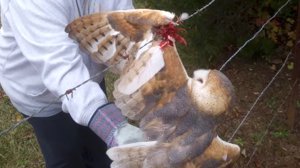 "I grabbed his talons and I just petted him. He was rolling his eyes back and forth like, 'thank you,'" said Smith. "He was so relieved. I guess he finally figured out that I was not going to harm him. We were just there to help him."
Stabilized at a nearby veterinarian's office, the owl is now recovering at a raptor center in Birmingham. And Kayla Smith is left with quite the story to share.
The rescuers are not sure how long the barn owl had been there. We're told once the owl recovers it will be set free to fly the night skies once again.