This is an archived article and the information in the article may be outdated. Please look at the time stamp on the story to see when it was last updated.
MUSCLE SHOALS, Ala. – The career path for a skilled welder leaving the Northwest-Shoals Community College program just got a bit easier. Students completing the program will have the opportunity to walk into an apprenticeship program.
"They're not going to have to hunt a job as much and it's not going to be as hard because they've got an opportunity laying there waiting on them. All they have to do is just step right into it," stated Lin Liles, a NW-SCC Welding Instructor.
The college reached an agreement with United Association's; a skilled labor force with more than 350,000 members.
Students who complete their associate degree, will get one to two years credit towards a five-year apprentice program.
"When they get to them they already know how to do the basic things of pipe welding. And they just take them and fine tune them to do what they need them to do," Liles explained.
Angie Wilson joined the welding program as a career change. She welcomes the new opportunities the partnership offers.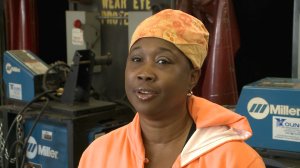 "It's intriguing learning how to do certain things and weld metal together. So, it's just interesting and I'm just fascinated by it. So I want to learn and see how far it will take me," said Wilson.
Union officials said there is a high demand for welders right now and this fast-track option will get more workers on job sites.