This is an archived article and the information in the article may be outdated. Please look at the time stamp on the story to see when it was last updated.
RUSSELLVILLE, Ala. – Attorney General Jeff Sessions announced Monday President Trump will be issuing an executive order bringing back the 1033 Program. It puts military surplus into the hands of local law enforcement.
One agency in northwest Alabama has benefited tremendously from military surplus.
It's not your typical patrol vehicle. Yes, it's painted black and white with a light bar, but this Humvee fills a niche for Russellville police.
Chief Chris Hargett got this one and several more through the 1033 Program.
"We've used them numerous times in situations where we've had ice and snow. We've helped get hospital workers to work, our own workers to work."
In fact, Chief Hargett has gotten several large pieces of equipment from the military. All free of charge to the department; he simply had to go pick them up.
"It's stuff we couldn't necessarily afford, and it's probably stuff that necessarily the city council wouldn't be inclined to purchase for our department," Hargett explained.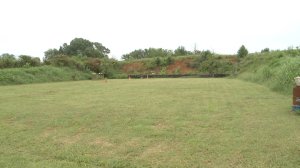 The 1033 Program is not all about armored vehicles, machine guns and grenade launchers. Chief Hargett got equipment through the program to help build a firing range. Now law enforcement in Franklin County can use the range for training.
"With budgets the way they are, it saves the budget," said Hargett. "It could save lives, and you get equipment you normally wouldn't be able to get."
With Monday's announcement of reinstating the 1033 Program, Hargett is anxious to see what other items he can get to help.
Kevlar vests, helmets, as well as first responder and rescue equipment will be some of the items being released to law enforcement through the surplus program.