This is an archived article and the information in the article may be outdated. Please look at the time stamp on the story to see when it was last updated.
LAUDERDALE COUNTY, Ala. – Thursday morning Shoals business leaders received an update on the effects the Toyota-Mazda manufacturing facility in Huntsville will have on all of north Alabama. Right now recruitment efforts are well underway for those manufacturers who will support the main plant.
There is a skeleton of a building going up at the Rogersville Industrial Park which may lead to much bigger things. It's one of two spec buildings under construction by the Shoals Economic Development Authority. They're hoping the saying of "If you build they will come" holds true.
"We've definitely had some visits and hope to have many more, but we're proactively recruiting those businesses and also there are spec buildings that are going up in order to recruit those businesses more effectively," stated Caitlin Holland with Shoals Chamber of Commerce.
The Shoals Chamber of Commerce hosted Huntsville Mayor Tommy Battle at a luncheon Thursday. With Toyota-Mazda hiring nearly five-thousand employees when it's up and running – there will likely be ten to fifteen thousand more support jobs created.
"Rogersville, the Quad-Cities area, all of these areas have a lot of potential right now because you have workforce, and you have a well-trained workforce, and a good education system," said Battle.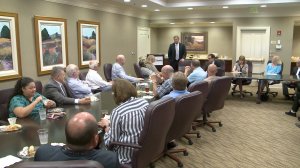 And Battle told the group of business leaders, some of the suppliers want to be 50-miles away from the main plant. That's where they will be able to tap into a separate workforce.
"We have land and we have a workforce, and so we would love to see the off-shoots of Toyota-Mazda in the Shoals, so our workforce can become involved with what they're accomplishing in Huntsville," Holland explained.
And with spec buildings going up, economic leaders hope they are ahead of the game in recruitment. According to the Shoals Economic Development Authority, the Rogersville spec building should be completed in August and ready to be occupied. The building going up in the Muscle Shoals Industrial Air Park should be completed by the end of the year. Both will be marketed to suppliers needed for Toyota-Mazda.