This is an archived article and the information in the article may be outdated. Please look at the time stamp on the story to see when it was last updated.
FLORENCE, Ala. – Five years ago this week, talks began about building a new hospital in the Shoals. Thursday morning RCCH HealthCare Partners reached a milestone on the project.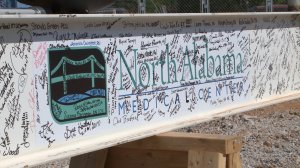 As signatures were placed on a steel beam, construction workers were hard at it. The white beam is a symbol; a promise to a community which was given years ago.
"It's very clear that the area needs more care and more access to care, ease of getting in and out. You know people in a time of need, they need ease of access," said Marty Rash, CEO of RCCH HealthCare Partners.
North Alabama Medical Center will replace the aging ECM Hospital. Rash said it will be a regional facility servicing northwest Alabama, southern Tennessee and northeast Mississippi.
"There's no reason they should have to go to Huntsville for care and that's the whole premise behind this,"Rash stated.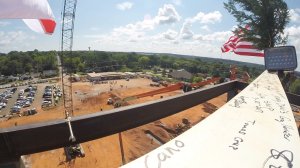 "Care needs to here. It's easier on the families, it's better quality care."
Thursday morning, a crane lifted the last piece of structural steel into place, 250 days after ground was broken on the site.
Residents of Florence can expect more changes over the coming months.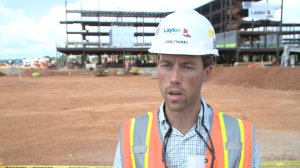 "It will start to look more like a building and fill-in in the next two to three months as we work on the inside at the same time," explained John Thomas with Layton Construction.
North Alabama Medical Center should be complete and ready for move in by December of 2018.
According to RCCH HealthCare Partners, the new hospital in Florence will cost $250 million.
The medical center's emergency room will more-than-double the number of current beds they have at ECM Hospital.