This is an archived article and the information in the article may be outdated. Please look at the time stamp on the story to see when it was last updated.
FLORENCE, Ala. – It's been talked about for a long time. Construction itself lasted almost two years. At the crack of dawn on Thursday morning, the first patients left ECM Hospital in Florence headed to the new North Alabama Medical Center.
Lined up and ready to go, twenty ambulances from Alabama and Mississippi sat staged – ready to transport patients at ECM Hospital. Upstairs on the fifth floor, patient James Sons was waiting for his ride to the North Alabama Medical Center.
"(Are you anxious to get to the new hospital?) Yes, sir I am, see what it's like. They say it's like a new world over there," said Sons.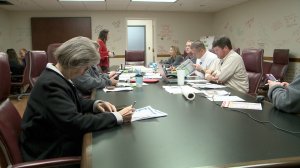 In the command center at ECM, the progress of each patient is tracked. Constant communication plays a key role in making sure everyone gets to where they are supposed to go.
"We've been planning for over a year. So, we've tried to anticipate things. Things have already come up today that we hadn't anticipated, but we are moving in all about 125 patients over to the new hospital today," stated North Alabama Medical Center Administrator Russell Pigg.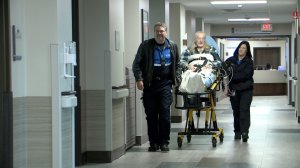 Across town, there's a constant stream of transport ambulances coming and going. Many have described the new North Alabama Medical Center as more like a hotel than a hospital.
"I think it is going to mean a lot of good things for the community. A lot of jobs; a lot more services," said Sons.  And hospital administrators say that is their goal. To keep more residents, close to home for their healthcare.
After all of the patients are transported and the necessary equipment removed, the entire campus of ECM will be fenced off to prepare for demolition.
Transportation efforts were completed by 1 p.m. Visiting hours at North Alabama Medical Center will resume at 7 p.m. Thursday evening. Visitors were limited access to the hospitals because of the move.