This is an archived article and the information in the article may be outdated. Please look at the time stamp on the story to see when it was last updated.
SHEFFIELD, Ala. – After serving as interim police chief since April, Sheffield's civil service board promoted Ricky Terry to the city's top position.
Terry has walked through the doors of the Sheffield Police Department for more than 22 years. He was named interim chief after the retirement of Greg Ray in the spring.
"It was a relief," Terry said. "It was a lot of stress on me, being back here, not knowing. Now I feel like I can release that hand that has been tied behind my back and we can start moving forward with the department."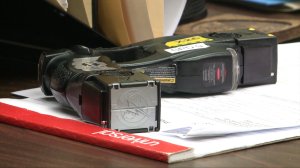 During his wait, Terry started replacing aging equipment and adding to it. Tasers, body cameras, a redesigned badge and new vehicles are just a few of the new things he's already gotten.
Now he needs to hire police officers.
"We just lost three police officers, and I think that was one of the problems — they didn't know," he said. "They knew I had been the interim since April, and it hasn't been posted the last three months."
Terry wants his officers and administration to be more in touch with Sheffield's residents.
"The big thing is community policing," he said. "I think we need to get out in the community more. I know I'm not an elected official, but to me I still work for the citizens of Sheffield."
On Monday night, Terry did something that hasn't been done with the department before: He gave out the first "Life Saver" plaques to officers, patting the men and women on hteback for a job well done.
Terry said he will spend a few months evaluating the department and then determine if changes need to be made.