This is an archived article and the information in the article may be outdated. Please look at the time stamp on the story to see when it was last updated.
FLORENCE, Ala. – In just a few weeks students will be heading back to class to start the 2017-2018 school year.
Underneath the hot July sun construction workers are feverishly building. The site of the former Florence Middle School on Hermitage Drive will be the site of the new Florence Middle School. Foundations are being poured and block walls are being erected.
School system administrators admit there were some early bumps in the road, but progress never halted.
"We did have some obstacles in the beginning, but we really want to put that behind us. Now I think everyone is singing off the same music sheet and we're happy," said Superintendent Jimmy Shaw of the Florence City Schools.
The school system will be spending upwards of $35-million to build the seventh and eighth grade school. It's being paid for through a bond issue and cash already in the bank.
"Our students really deserve a great facility to learn in, and we are excited to be able to build this building for them," Shaw stated.
In the meantime, students will be returning to these manufactured classrooms behind Hibbett School. Right now the completion date is up to the weather.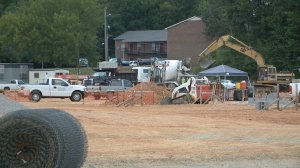 "About 18-months; we are looking at targeted competition is January of 2019," explained Shaw. "But again, good weather it could go faster and bad weather it could be worse."
As for the construction workers, they would love to see some cooler temperatures.
They are also trying to complete a rather large parking lot on the site to help accommodate parking for football games and basketball games this fall and winter.