This is an archived article and the information in the article may be outdated. Please look at the time stamp on the story to see when it was last updated.
FLORENCE, Ala. – It took months to get the project off the ground, now the new Florence Middle School is quickly progressing, but contractors have met a few challenges along the way.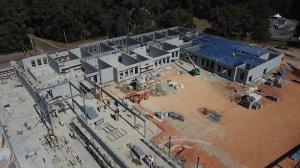 From Sky19 you get a much better idea of just how many workers are on-site. Concrete block walls are quickly going up on the northern side of the campus. On the southern end foundations for the new school are being poured.
"We're 23 percent complete on the facility, and that's exactly where they projected we would be at this time. I love being on schedule and on time," stated Assistant Superintendent Connie Wallace with Florence City Schools.
With a project this size that's good news for Wallace, who is the project coordinator.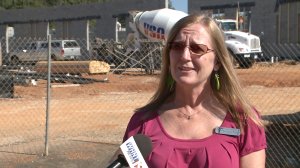 Mother nature has given contractors a mixed bag over the last few months.
"With three hurricanes in the last month-and-a-half, it has caused some issues but they have been able to work their schedules around pouring concrete so that they can continue to work."
Wallace admits she drives by the project at least twice a week to check the progress.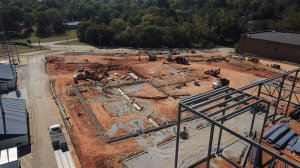 She said the teachers who are working out of modular classrooms right now are elated to see the walls going up.
"I think they are more excited than the kids are," said Wallace. "Being in the modular campus for a couple of years, they're very excited to see this get finished."
If the weather cooperates over the next few months, Florence City Schools could be getting the keys in December of 2018.
The Florence Middle School campus will be the home to seventh and eighth grade students and projected to cost just over $36 million.