This is an archived article and the information in the article may be outdated. Please look at the time stamp on the story to see when it was last updated.
FLORENCE, Ala.- Leaders in Lauderdale County are taking a serious look at a new detention center.
Twenty-one years ago, the Lauderdale County Detention Center opened. Jail administrators saw faults in the design even then.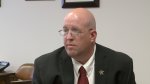 "There are flaws in the design of this jail, as far as the pipe chases and as for our being able to view. And what we have been looking at is a better design all the way around," explained Jail Administrator Jason Butler.
Butler wants to see a three, possibly four-story detention center.
Sheriff Rick Singleton showed off the conceptual plans Monday. He would like to build it behind the current courthouse.
Singleton said overcrowding has caused the detention center to age prematurely. Right now they are 63 inmates over their 203-person capacity.
"We've patched things up, we've put Band-Aids on issues, and it's just getting to the point where we need to take some serious action," Singleton stated.
Singleton said the county commission is on board with the new detention center. They must find almost $30 million to pay for it, though.
The proposed detention center could hold up to 369 beds, and if they decided to add a fourth floor that number would jump to 589.