This is an archived article and the information in the article may be outdated. Please look at the time stamp on the story to see when it was last updated.
FLORENCE, Ala. – A former Lauderdale County resident serving a life sentence in prison without the possibility of parole has been sentenced for a second time with the same outcome.
Nathan Boyd couldn't get out of the courtroom fast enough after sentencing.
"I can't even get around y'all," muttered Boyd at photographers.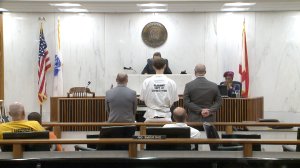 After studying the evidence presented in his first trial and the resentencing hearing earlier this month, Judge Gil Self ordered Boyd to spend the rest of his life in prison.
"It's a neverending nightmare for us," stated Mary Anne Rippey, the sister of victim Danny Sledge. "So, we are hoping this will close the door finally. So we can grieve my brother properly."
In his order, Judge Self called the crime "particularly gruesome." Investigators testified during the hearing in early September, Nathan held down victim Danny Sledge while his brother Eric stabbed him repeatedly.
The question brought by a U.S. Supreme Court ruling: Is it fair to sentence a juvenile to life without the possibility of parole? Boyd was four months from his 18th birthday at the time.
"It's very frustrating," said Jessica Columbia, the daughter of Sledge. "He did mouth to me the first day how sorry he was, and I told him to shut up. I don't believe his tears; I've never believed his tears."
Danny Sledge's family expects the judge's order to be appealed. In the meantime, they must turn their focus to Eric Boyd, who is eligible for parole next April.
"We'll have to deal with his brother for the rest of his life and our life. But we are willing to do it; we're not going anywhere. We are going to fight for justice for daddy for however long it takes," Columbia said.