This is an archived article and the information in the article may be outdated. Please look at the time stamp on the story to see when it was last updated.
MUSCLE SHOALS, Ala. – For the second time in a month, high school students have been placed on lock-down due to a threat. The Muscle Shoals City Schools Superintendent sat down with WHNT News 19 today to discuss how these threats need to stop.
Exactly one month ago, a student at Muscle Shoals High School was charged with leaving a threatening note in the band room – a message taken very seriously by the school system and police. Even days later there was a heightened police presence on campus.
"We don't take anything for granted in the day and time that we live in any longer," explained Muscle Shoals City Schools Superintendent Brian Lindsey.
On Thursday, while traveling on a school bus between campuses, a student digitally sent an anonymous threat to another student. It was shown to administrators, and the Muscle Shoals Career Academy was immediately placed on lock-down.
Lindsey says they quickly evaluate every threat which comes in.
"Is it specific? Is it immediate? And is it credible? We try to answer those three questions in every situation on the onset of a situation," Lindsey stated.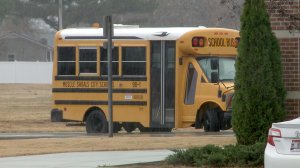 And at the same time, Muscle Shoals police are notified. Superintendent Lindsey says these threats, whether credible or not, are extremely disruptive. He is pleading with parents to speak with their children about using technology in a negative way.
"Stress the importance of thinking through what you are sending before you hit that send button. I mean, it's a click away from something you can never take back," Lindsey said.
The students in both incidents have been charged criminally, and police say it doesn't matter whether it was a joke or not, a threat is a threat.
In the most current case, the 18-year-old student has been suspended and faces expulsion from Muscle Shoals High School. If a judge deems it appropriate, the student could be tried as an adult.