This is an archived article and the information in the article may be outdated. Please look at the time stamp on the story to see when it was last updated.
TUSCUMBIA, Ala. – As a manager of any store, you never know what might happen during your shift. On Wednesday, a manager of McDonald's in Tuscumbia had to make a special delivery.
The day started out pretty normal for shift manager Sausha Mitchell. But, things quickly turned upside down when a customer called for help in the women's restroom.
"She couldn't understand me, I couldn't understand her. She's saying 'no,' she thought I was saying 'go!' So, I guess that's how the pushing started," said Mitchell.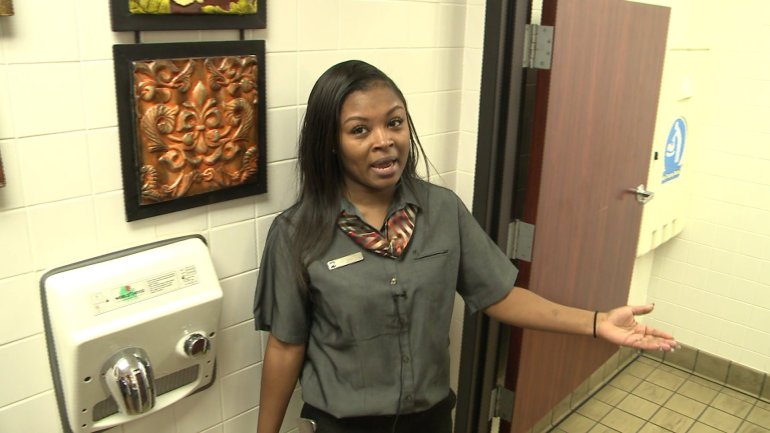 With no time to wait for help, Mitchell was about to deliver a baby.
"I was listening to orders; I had an order for the Grand Big Mac in my ear. I'm like, 'Hold on sir, I think I'm delivering a baby!' That's my first instinct, but I wasn't sure. But he was like 'okay I will wait right here.' He was in drive-thru until I got done," Mitchell said.
Mitchell said she never thought she'd have to do anything like this when she applied for the job.
"That wasn't part of our training," she said. "That wasn't in our handbook!" as her co-workers laughed.
Moments later, Mitchell says the baby appeared.
"I can't let this baby hit the floor, so I'm going to have to catch it, ain't nobody else going to catch it but me! So I just caught it."
Mitchell says the mother stood in the restroom holding the umbilical cord until paramedics arrived.
"She was calm. She stood up the whole time. Congratulations to her, I commend her. She wasn't howling, I was panicking. You would've thought I was having the baby."
"I was leaning on the stretcher, I thought it was for me. But no, it was for her," Mitchell said. "They were like, 'do you need one?' No, I'm not sure but I don't know what to do, I'm just walking around with paper towels and tissue; like what do I do next?"
Mitchell says she cleaned up after the excitement settled down and went back to work.
Now, pink bows hang on the front doors, honoring the baby girl who blessed them Wednesday afternoon.
The mother and newborn were taken to an area hospital in the Shoals. Both are said to be doing well.