This is an archived article and the information in the article may be outdated. Please look at the time stamp on the story to see when it was last updated.
FRANKLIN COUNTY, Ala. (WHNT) - A bizarre, possibly life threatening situation has unfolded in Franklin County. Two men are behind bars, accused of kidnapping a man and confining him in a secluded area.
Sheriff Shannon Oliver said the incident started at the Texaco Station on Highway 24 East, just outside of Russellville.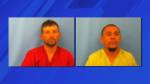 Oliver said 35-year-old Steven Pennington and 32-year-old Nahum Garcia setup a meeting with the 50-year-old victim. When the three met, investigators said Pennington and Garcia beat the man up and put him in a car.
"The offenders were accusing the victim of stealing a vehicle from them and maybe some other items," explained Oliver. "At this point, the best we can tell is that the vehicle actually belonged to the victim anyway."
The sheriff said they drove the man east on Highway 24 to an area off McGuire Loop in Tharptown. They then dragged the man from the car and took him into the woods, chaining him up to a tree. Oliver said Pennington and Garcia left him there to suffer. He eventually freed himself and ran for help.
"It's a very unusual situation," said Sheriff Oliver. "It's not something that we have happen every day here. It's just kind of hard to explain why people do what they do."
To make the case even more bizarre, Oliver said the victim and Steven Pennington are family members.
Both suspects are charged with kidnapping. Steven Pennington has been released on $10,000 bail. Nahum Garcia is being held without bond at this time.
The kidnapping victim sustained bruises, cuts and scratches but is expected to be okay.