This is an archived article and the information in the article may be outdated. Please look at the time stamp on the story to see when it was last updated.
FLORENCE, Ala. - A Lauderdale County deputy put handcuffs on the man who tried to kill him on Friday morning.
A jury found Timonthy Murphy guilty of attempted murder after he shot the deputy Randall McCrary in February of 2016.
"When that verdict was read we felt like justice had been done," said Sheriff Rick Singleton.
The sheriff said closure has been given to the deputy.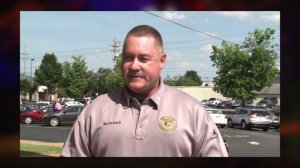 "Deputy McCrary, the deputy who was shot by Mr. Murphy, put him under arrest and escorted him to the detention center," said Singleton.
He said McCrary is one of the strongest people he knows.
"He's just done an extraordinary job of dealing with this on an emotional level," said Singleton.
He hopes this case is a lesson to others.
"Anyone who thinks they want to try to kill a police officer needs to look at this case. Because I'm sure Mr. Murphy is thinking right now, I wish I wouldn't have done this," explained Singleton.
The Sheriff said his office is pushing for a strong sentence.
​"If any cases deserves a maximum penalty this one does," said Singleton.
Murphy is set to be sentenced on June 20. The maximum penalty is life in prison.