This is an archived article and the information in the article may be outdated. Please look at the time stamp on the story to see when it was last updated.
LAUDERDALE COUNTY, Ala. – As jury selection began Monday morning, Lauderdale County prosecutors offered Steven Stanfield life with the possibility of parole for the shooting deaths of Michael Linville and Victoria Garcia. By the end of the day, Stanfield was sentenced to 25-years in prison on two counts of murder.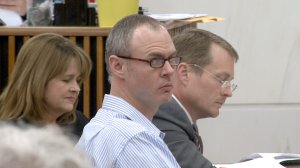 The courtroom was packed full of potential jurors for most of the day. After they were dismissed, attorney's and prosecutors stayed behind with Judge Gil Self to go over motions. By 7:15 Monday night, a plea agreement was reached.
As part of the agreement, Stanfield had to give his side of the shooting. He told Judge Self the following.
On September 11, 2015, he went to the home of Michael Linville to collect some money he was owed. When he got out of his car he heard gunshots. Stanfield said he left and went to his house to get a gun and returned. As he approached the front door Stanfield said he was shot, that's when he says he opened fire.
Investigators say both Linville and Victoria Garcia died from injuries sustained during the shooting.
Stanfield will have to serve 85% of the 25-year sentence, which is just over 21-years. Prosecutors say the family members of Linville and Garcia agreed with the plea agreement reached. Steven Stanfield will now be transferred into the custody of the Alabama Department of Corrections.