This is an archived article and the information in the article may be outdated. Please look at the time stamp on the story to see when it was last updated.
FLORENCE, Ala. – Were several months of research for a proposed tennis complex in Florence for naught? A majority of city council members have voted against the plan and the tax increase to fund it. However, the project may not necessarily be dead.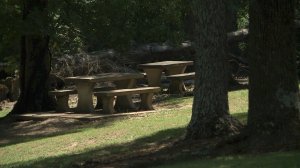 For years the City of Florence has scratched their heads trying to find an attraction for Veterans Memorial Park. While they have been thinking, the park has sat pretty much dormant.
"It's a beautiful park," stated District 3 Councilman David Bradley. "It's one of the best situated parks in the City of Florence and it has gone to waste over the past few years and there is no excuse for that whatsoever."
The proposed 31-court tennis complex is the closest a project has gotten to reality.
However, Bradley and three other council members didn't feel comfortable voting in favor of a project in which they didn't know what it would look like or cost.
"The project is not dead," said Bradley. "I am looking for other alternative means to fixing up that park and I'm fighting to do so this very day. I have already reached out to the mayor and to our park and recreation director."
According to Bradley, he would like to see upgraded camping, walking trails and better pavilions. Bradley said a stand-alone tennis complex with no other improvements is not something he can support and it's not something his district's residents would get behind.
"They just want the park fixed up and I totally agree with that. I would like to see a nice tennis facility for people that play, but not at the expense of hurting the rest of the city for it."
So it's back to the drawing board for the city as they try to figure out what to do in the park.
The proposed lodging tax increase of 5% to pay for the tennis complex was also voted down.