This is an archived article and the information in the article may be outdated. Please look at the time stamp on the story to see when it was last updated.
LEXINGTON, Ala. (WHNT) – As thousands of high school seniors prepare to walk across the stage in a couple of weeks at graduation, many will be getting scholarship awards.
With parents and classmates looking on, some anxious seniors at Lexington High School took their turns receiving their scholarships Friday morning. Among the list of nearly 40 presentations, one stood out as the most special.
"You still see the flags flying on the lawns of homes and stuff like that. It just makes you feel good that this community still supports our veterans, both past and present," former Lexington graduate and retired Naval Officer Van Kizer.
The Lexington Fallen Veterans Memorial Scholarship honors eight former graduates who gave their lives defending our freedoms.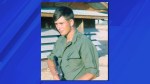 SPC4 Don L. Michael was this year's highlighted soldier. Michael's family was given the Congressional Medal of Honor after his death in the Vietnam War. They were on-hand to give Lexington Senior Colton Sanchez a $5,000 scholarship.
"There's four attributes that we talk about; its selfless service, teamwork, integrity and devotion to duty," Kizer explained.
As scholarship co-founder, Van Kizer said they want to ensure the men who have sacrificed their lives are never forgotten.
The Lexington Fallen Veterans Memorial Scholarship Committee raises money through private donations each year to fund the award. The scholarship can be used at any institution of higher learning.