This is an archived article and the information in the article may be outdated. Please look at the time stamp on the story to see when it was last updated.
LEXINGTON, Ala. (WHNT) - What started as feeding a stray dog turned into a tale of survival. A dog in the Shoals has proven she has an extremely strong will to live.
Lexington municipal court judge and family law attorney Denise Burch said her dog, Josie, survived 16 days in the winter weather with a gunshot wound to the face.
"She always greeted me when I came home from work and she wasn't there," said Burch. "I went looking for her day after day and she didn't show up."
Josie disappeared during the bitter cold of December. It wasn't until January that she found her way home.
"My husband looked out the door and she was curled up on the step like she had never left," Burch explained. "But, when she showed back up, her eyeball was hanging out and she was starving because she had not been able to eat and she was hurting so much but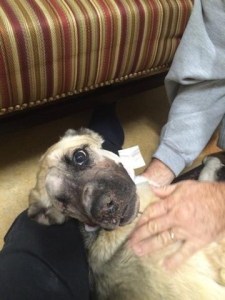 yet, she still was wagging her tail and had acted like nothing had happened to her."
The emergency vet told Burch there was nothing they could do, so she headed to Mississippi State's veterinarian school to learn Josie's fate. She had been shot in the face, leaving her with a shattered chin, broken mandible and she lost an eye.
"They said it had happened a while back. That means Josie was sitting in the cold with a gunshot wound. She endured a lot of pain to find her way home. I'm honored she chose me to come home to. How could we turn our back on her when she wanted so badly to live?"
It took ten surgeries and ten weeks with a feeding tube, but now Josie never leaves the judge's side. She even sits on the bench with her on court days.
"Now that's where she stays when I'm on the bench in Lexington, she comes up there and sits up there with me. So, she's the 'Lexington law-dog.'"
Persistence and strength brought Josie home that cold winter day. Now, she's helping others in Burch's family law practice.
"I had a child that was blind that I had been seeing a lot and I couldn't get to open up and one day he came in and Josie came up in his lap and I let him take his hands and feel where Josie had lost her eye. That was the first time I had seen that child smile."
The student vet that helped nurse Josie back to where she is today chose to write her doctoral paper on this miraculous recovery at Mississippi State.