This is an archived article and the information in the article may be outdated. Please look at the time stamp on the story to see when it was last updated.
RUSSELLVILLE, Ala. – Nearly three weeks ago, the front of a downtown Russellville building came tumbling down, narrowly missing the owner and a small child. Unable to fix the building himself, the owner gave the property to the city.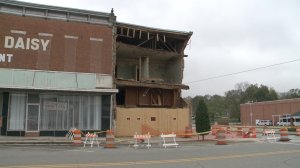 Orange cones continue to cordon off the area. Keep out signs are stapled to the temporary facade. Structural engineers have studied the D.L. Daily building from top to bottom. Mayor David Grissom says the building, built in 1904, can be saved but at an unknown cost.
"With his help and the architect's help, they're currently designing plans to put the front back on the building so we can get some cost estimates," Grissom explained.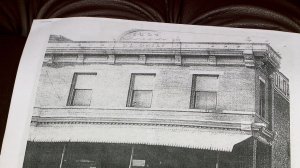 Sitting on the mayor's desk are copies of pictures which date back to when the building was newer. Grissom said he would like to see the original architecture brought back.
Developers have spent millions redeveloping downtown Russellville in recent years. Which means all that more to get this corner building back up and going.
"It's in a very important part of our downtown area," stated Grissom. "So, we are hopeful we can get the building back going and be a productive part of our downtown district."
So the building will continue to sit as is until engineers and architects come up with an affordable plan for the city to agree with. Say the city council does decide to fix the building, at that point they will have two options; one, sell the building for a profit, or two rent the space out for continuous income.
Structural engineers have deemed the building safe for the time being. There has not been timeline established for architects and engineers to get plans to Russellville city leaders for evaluation.