This is an archived article and the information in the article may be outdated. Please look at the time stamp on the story to see when it was last updated.
FLORENCE, Ala. – A civil lawsuit has been filed against the owners of a petting zoo, who employed a man accused of inappropriately touching several small children. The lawsuit has been filed in Lauderdale County Circuit Court.
The 10-page complaint was filed on behalf of three sets of parents, whose children were allegedly touched by Daryl Raymond while he was working for Jungle Safari.
The complaint names Engesser's Exotics, the parent company of Jungle Safari, the Florence Plaza, and Daryl Raymond as defendants.
The Florence Plaza is named as a defendant because according to the suit, they used the petting zoo as a promotion to get more shoppers to visit.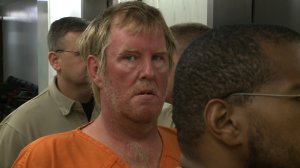 The plaintiffs state Jungle Safari and Florence Plaza should have known Raymond's history and practice of assault, and in particular, sexual assault of minor children.
The suit claims Raymond touched three children on the dates of April 28th and 29th.
According to Florence Police, Raymond was working on a pony ride at Jungle Safari at that time.
In August, a Lauderdale County grand jury indicted Raymond on six counts of unlawful sexual abuse of a child under the age of 12.
The lawsuit goes on to say, Jungle Safari continued to allow Raymond to operate the pony ride after a complaint was brought to their attention on the 28th. The suit said two more victims were sexually assaulted on April 29th.
The plaintiffs are seeking damages to be determined by a jury.
According to Florence Police, there were a total of six victims Raymond is accused of touching.
Raymond is set to stand trial on criminal charges next spring.  Dates for the civil suit to be heard have not been set. Raymond remains in the Lauderdale County Detention Center on bail totaling $300,000.