This is an archived article and the information in the article may be outdated. Please look at the time stamp on the story to see when it was last updated.
LAUDERDALE COUNTY, Ala. – Hundreds of people are being given the opportunity to "Stay Out of Jail" next week. The Lauderdale County Court Clerk's Office says if you have outstanding fines and tickets – this is your chance.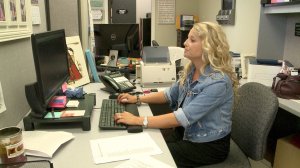 The list has been compiled and it's a long one.
"Probably around 700 to 800 is what is on the list of names right now," stated Court Specialist Audra Wallace. "That's not all of the warrants that we have, that is just some random ones that we have pulled."
Court fines, traffic tickets, worthless checks – the list goes on and on. Hundreds of people who haven't shown up in court, or did and didn't follow through. Wallace has been working on the Stay Out of Jail list for weeks.
"They need to contact our office even by phone and work something out with us. We'll just look at what they have and figure out what we can do to help them," said Wallace.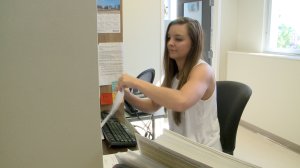 Those on the list can show up next week to meet with someone in the Lauderdale County Court Clerk's Office. If they follow through, the arrest warrants which have already been issued will be recalled.
"They may be in a situation where they don't have the money and they are afraid to come, and so hopefully we can help them with that," Wallace explained.
If you don't come forward to take care of your outstanding warrants, courthouse officials say you'll likely get a visit from a sheriff's deputy or police officer in the near future.
Below is a compiled list of names with those who need to contact the Lauderdale County Court Clerk's Office or Lauderdale County District Attorney's Office next week.
Lauderdale County District Criminal Warrants
(Last Name, First Name, Middle Name)
Albertson, Jeffery Allen
Alexander, Delana
Alexander, Eric Oneal
Alexander, Kayla
Allah-Cobb, Sabah Nimat
Allen, Monica Lynn
Anderson, Jody Lee
Anderson, Lagrace Kavon
Atwell, Kimberly Lee
Bahena, William
Baker, Megan Thomasina
Baker, Tiffany Dawn
Baskins, Marty Lynn
Beck, Llshanda Dawn
Behel, Bobby Wayne
Belew, David Lance
Benefield, Wilkinson Shane
Bennett, Christopher Cleveland
Betterly, Sara
Bevis, Eric Wayne
Billings, Roy Michael
Birgans, Tommy James
Blakney, Daryl Wayne
Bohanan, Chasity Nicole
Borden, David Norman
Borden, Jackie Ray Jr.
Borden, Tenisha Dawn
Boyd, D'Angelo Quintez
Boyd, Scott Eugene
Bratcher, Jordan Mark
Brewer, Tiffany Fawn
Briley, Virginia L
Burbank, Ronnie Dale
Burdette, Mary Elizabeth
Burgess, Thomas Allen
Burton, Kevin Nathan
Butler, Jordan Lynn
Butler, Joshua Keith
Byrd, Jared Bryson
Byrd, Tommy Randall Jr.
Cagle, Logan Spencer
Carmichael, Rodney Roy Jr
Carpenter, Wayne Curtis
Carroll, Ronald Louis
Clemons, Tyler James
Coats, Houston Dewayne
Cole, Brandlyn Leigh
Coleman, Clarissa
Collins, Bill Raymond
Conroy, Michael Steven
Cook, James Max
Cox, Jenilee Rachel
Coyer, Harley James
Creasy, Tiffany Pace
Cunningham, Britni Leshea
D'Amico, Nestor Enrique
Darji, Rupal Bharatbhai
Davis, Jackie Dewayne
Davis, Patrick Rives
Diederichs, Corie Kaydon
Dillion, Kelly Ann
Elder, Brandi Diane
Enlow, Michael Scott
Etie, Jude Sebastian
Farrall, William Ernest
Felton, Eli III
Fennell, Laryssa Lauretta
Ford, Jerry Charles
Fowler, Jimmy Brent
Fox, Natasha Nashae
Franklin, Eric Michael
Fulks, Jason Robert
Fulton, Gary Allen
Fuqua, Samuel Brycin
Gamble, Jessica Renee
Garrard, Emily Ann
Ghrigsby, Heather Leeann
Gifford, Joshua Brian
Giles, Kalaundra Delewis
Goodwin, Howard Thomas
Goodwin, Nicholas Montrez
Graham, Melissa Dianne
Graves, Matthew Chance
Green, Dawn Lynn
Green, Sabrenia Kaye
Griffin, Crystal Marie
Guthrie, Charlotte Hayes
Hamm, Jeffery Allen
Hanback, Chad Everette
Hand, Brandon David
Hand, James
Haraway, Travis
Harris, Austin Daniel
Haskins, Maroland Rico
Hawkins, Sharday Renee
Hayes, Christopher Blake
Helmick, Adam
Hensley, Talia Michelle
Higgins, Charles Ray Jr.
Hill, Bradley Wade
Hodges, William Kenneth
Holland, Ronnie Lee
Hollingsworth, Renae
Hollis, Bryanna Donshea
Horton, Bobby Wade
Hughes, Bobbie Bass
Hulsey, Brant Lee
Hunt, Debra J
Hutcherson, Samantha Ann
Hyde, Tiana Fay
Idigpio, Susan F
Jackson, Devin Derrell
Jackson, Turner Lee
Jimenez, Jose
Johnson, Aaron Lamer
Johnson, Tymothy Lee Drake
Johnston, Angela
Joiner, Timothy Roe
Jones, Charles Anthony
Jones, Deidra Michelle
Jones, Jennifer Denise
Jones, Keith O
Jones, Markese Delwyn
Keeton, Jessie Ray
Kelley, David Anthony
Kelsoe, Bart Eugene
Kelsoe, Marie Antionette
Kilpatrick, Stefanie Diana
Kimbrough, Jason Lewis
Lang, Bruce Gilbert
Laws, Joshua Kaed
Lee, Jessica
Lehr, Michael
Lightsey, Anthony Gerald
Liles, Erik Daniel
Lindsey, Matthew Troy
Long, Darnell Monroe
Lovelace, Brandon Mark
Lovelace, Ericka Danielle
Lovell, Marty Jerome
Lowry, Michael Anthony
Lunn, Gregory Penn
Luther, Kimberly Lee
Lykins, Ernest Scott
Malone, Tommy Wayne
Malott, Jennifer
Mansell, Jeremy H
Martin, Brittany Saige Pinter
Martin, Joshua Jay
Mason, Ziesha
Mcarthur, Nicholas Allen
Mccann, Joshua David
Mccann, Monica Graham
Mccurry, Brandi Renea
Mcdaniel, Kmia
Mcgee, Heather Leanne
Mcgee, John Rea
Mcgill, Sherrie Lee
Mckinney, Stanley Oshea
Mclemore, Donald Douglas
Michael, Amanda
Miller, Andrew Lynn
Mitchell, Maurice Sherrel
Modas, Tania Roberts
Moody, Thelitha Elizabeth
Morales, Joyce Inez
Morrow, Daniel Tyson
Muirhead, Arthur W
Napier, Jeffery Omares
Nared, Emmanuel Raheem
Navarro, Eduardo D
Nethery, Kimberly Murphy
Newbury, Matthew Alan
Nix, David Randall
Norman, Rebecca Lucille
Odell, Niki Lashea
Oliver, Latrese Antoinette
Orrell, James Edward
Parker, Gregory Trent
Parrish, Bobby Trent
Patrick, Desha Leshell
Patterson, Jonathan Wylie
Peters, Taylor Marie
Pettus, Mike Will
Pippins, Christina Alicia
Pitts, Ricky Dale
Plevnic, James Douglas
Prestage, Michael Ray Jr
Priest, Stephen Dewayne Jr
Pugh, David Matthew
Purvis, Dhaijah
Putman, Michael Anthony Jr
Quinn, Bryan Ray
Reach, Debra Wallace
Reed, Nathan Anthony
Reed, Racheal Lashel
Reid, Randall David
Rickard, Anthony Brett
Rideout, Juston Keith
Risner, Douglas
Risner, Stephen Dewayne
Roberts, Brandon
Rose, Jeremy Lee
Roath, Rachel Valli
Rowell, Jeffrey Darnell
Russell, Andrew C Jr
Russell, Jordan Tyler
Rutland, J B Jr
Saint, Robert Terrence
Schmucker, Anthony
Scott, Alex Christopher
Seeley, Patrick Allen
Shipley, Lacreeta S
Siner, Sheila Ann
Slaydon, Tiffany Corinne
Smith, Carrie Jo
Smith, Leslie Ann
Smith, Thomas Aaron Jr
Soler, Tracy V
St. Andrew, Samantha Marie
Staggs, Charles Frederick
Staggs, Joseph Daniel
Starr, Frank Molton
Stokes, James Ivan
Strickland, Tracy Dan
Stubbs, Robert Charles III
Stults, Bennie Dwain
Taylor, Bethany Dawn
Taylor, Billy
Terry, Chasity Ann
Thomas, Tracy Michelle
Thompson, Christine
Thompson, Riccardo
Thompson, Robert L Jr
Thompson, Tessa Valerie
Tidwell, Joseph Daniel
Townsend, Jimmy L
Trousdale, Blaine Alan
Trujillo, James Lucas
Turbyfill, Teddy Wayne
Turner, Latinna
Turner, Michael James
Vandiver, Donnie Scott
Vaughn, Howard Lee
Wade, April Nicole
Walker, William L Jr
Wallace, Jonathan Andrew
Wallace, Ronald Glenn
Watkins, Glen
Wayne, Benjamin Wesley
Wear, Jennifer Lee
Weaver, Jackson Taylor
Whisman, Frances Bass Louise
Whisman, Roger Dale
White, Rachel Bertina
Wicker, Jennifer Lynn
Williams, Bradley Dale
Williams, Robert A
Winters, Jessica Layne
Woods, Ladawn Michelle
Wray, Connie Holder
Wright, Travis L
Young, Benjamin Owen
Young, Gary Allen
Young, Jeremy Lee
Disclaimer: Every effort has been made to ensure that the persons on this list have valid active warrants in Lauderdale County, Alabama. If your name appears on this list in error, please notify the Lauderdale County Court Clerk's Office at (256)760-5724 or (256)760-7599.
Lauderdale County Traffic Warrants
(Last Name, First Name, Middle Name)
Adcock, Jeffery Dean Jr
Alderete, Kathy Geneva
Aldridge, Vanessa Lea
Alexander, Jeremy Wayne
Ali, Ahmed Kalid
Allen, Tamra Lechele
Arnez, Corissa Leanne
Armstead, Dmontra Gregory
Armstrong, Teddy Shane
Atkinson, Brandon Cole
Austin, Dakota Dale
Baker, Tiffany Dawn
Baldebeso, Denar M
Baldwin, Samuel Lee
Balentine, Joshua Michael
Ball, Natalie Marie
Ballard, Cody Wayne
Bankhead, Candice Nicole
Barnett, Adam Lerone
Barnett, Bradley Wayne
Baskins, Christopher Lee
Bass, James Franklin Bo
Bates, John Garry
Bates, Shana Brianne
Bayless, Kimberly Sue
Bernardo, Diego Marroquin
Birch, Alysen Jean
Blankenship, Zachary Wayne
Blessing, Matthew Ryan
Blount, Jeremy Duane
Bobo, Robert Leslie III
Bolton, Tyler Anthony
Bordelon, Ashley Elise
Box, Mark Dwayne
Brasher, Michael Ray
Bratcher, John Christopher
Brause, Robert M
Briley, Samantha
Brockwell, Adam Brent
Brooks, William Hayden
Brown, Chedwick Lamar
Brown, Ramelle Lamar
Brummitt, Matthew Allen
Bryant, Kenneth Michael
Bullock, William Anthony
Burks, Monica
Burns, Alison Llewellyn
Bush, Benjamin
Butler, Clarence Rubush Jr.
Butler, Jeremiah David
Buttrui, Dakota
Byrd, Tommy Randall Jr.
Caal, Romero
Cabler, Tammy Richardson
Campbell, Jeremy Dale
Canady, Tyler James
Capley, Robert Dakota
Carlson, Robert Lee Jr.
Carr, Bruce Edward
Carr, Jennifer Vinson
Carruth, Darrell Keith Jr.
Carter, Rex Daniel
Chavez, Kimberly Ann
Clemons, Derek Heath
Clemons, Harley Rose
Coats, Houston Dewayne
Coffey, Keanu Jacob
Cole, Bradley Shawn
Cole, Ricky Logan
Collier, Jonathon Lee
Collins, David Brent
Conley, David Brent
Cook, Jason Lee
Coosenberry, Thomas Kennoah
Corum, Deborah Sue
Cottrell, Lewis Frank
Cox, Jodie Michelle
Cox, Justin Ray
Cox, Ralph
Cox, Wendy Vanessa
Crabtree, Marcus Brian
Cromwell, Johnny Malcom
Cromwell, Jonathan Lee
Crunk, Steven Aaaron
Cunningham, Sarah Elizabeth
Dabbs, Jeremy Ray
Daugherty, Joshua Lloyd
Davenport, Timothy Shane
Deleon, Leandra
Devito, Richard P
Dickey, Steven Wayne
Dicus, Charles
Dodd, Joseph Ross
Doyle, Jessica Lee
Duke, James Edward
Dunton, Christopher Braden
Edgemon, Wesley Shane
Ellis, Daryl Corbin
Elmore, Phillip Martin
England, Brian Keith
Enlow, Michael Scott
Erwin, Misty Lynn
Etheredge, Terrell L
Farmer, Mitchell Lee
Faustino, Garcia-Aguirre
Fisher, Ronald Keith
Fisk, Jeremy Brandon
Flanagan, Tommy Hugh
Flannnagan, Calvin Dwight
Fleschner, Anthony Thomas
Fletcher, Julius Adrian
Fletcher, Kenneth Labrian
Flippo, Margie Newrail
Fjorbes, Jeffrey Allen
Forsythe, Michael Clint
Franks, Tracy Lynn
Fuqua, Roderick Scentell
Gable, Alexander Clark
Garcia, Faustino
Garner, Tarisa J Maria
Gautney, James Bennett
Gayden, Marshai Nichole
Gibson, Katherine Lynn
Gifford, Joshua Brian
Glenn, Gabrielle Andrea
Goodwin, Howard Thomas Jr.
Gose, Anthony Robert
Graham, Natalie Nicole
Grandberry, Akeya Symboutae
Gray, Roger Wayde
Green, David Joshua
Green, James Ryan
Gregg, Annette Marie
Gregg, Kristy Michelle
Griffin, Aaron Lee
Griffin, Joshua Randall
Griffith, Victoria Harry
Hamilton, Niesha Nicole
Hammond, Christopher Michael
Hammond, Howard Eroy
Hammond, Linda F
Hanback, Glen Marvin Jr.
Hancock, Nathan Brice
Hand, Brandon David
Hand, William Spencer
Harbin, Shannon Eugnia
Hardy, Demario Antwan
Harris, Jason Wade
Harris, Kimberly Bruce
Harris, Trevon Oneal
Harrison, Howard Bruce
Hart, David Eugene
Hatley, James Bryant
Hayes, Dalton Ray
Hayes, Edward Allan
Heath, John Starling III
Helmick, Adam Alexander
Herston, Jeffery Logan
Hibner, Justin Aaron
Hicks, Cody Wayne
Hill, Bradley Wade
Hill, Danny Wayne
Hill, Deard William Jr.
Hinds, Bobby Jean
Hines, Blake Austin
Hines, Brian Keith
Holden, Byron Lee
Holden, Keith Shane
Holt, Micah Reanda
Hughes, Harold Dean
Hull, Dakisha Shantell
Ingram, Jennifer S
Ingram, Travis Carl
Inscho, James Michael
Isom, James Keith
Jackson, Acire Adaira
Jackson, Ciara Danielle
Jackson, Larry Lafrance
Jackson, Taderick Jaleele
Jackson, William Cantrell
James, Brodie Tyler
James, Peter Blake
Jaramillo, Serna Miguel A
Johns, Kathleen Hope
Johnson, Carl Liona
Johnson, Charles Dwayne
Johnson, Jamie Marty
Johnson, Jeremy Gerrod
Johnson, Travis Lee
Johnson, Tymothy Lee Drake
Johns, Charles Anthony
Jones, Laurie Lemly
Jordan, Jesse Lynn
Joyner, James Michael
Keeling, Michael R
Keener, Roy David Jr
Keeton, Jeffrey Wayne
Keeton, Joshua Randall
Keith, Anthony Lamont
Keller, Amber Leigh
King, Donald Eugene Jr.
King, Kaila Makenzee
Lacy, Kimberly Michelle
Lamar, David Paul
Landers, Tanna Kaylene
Lane, Raven Dawn
Lang, Bruce Gilbert
Lanier, Russell Leon
Lansdell, Kristina Joann
Larason, Kirk
Lard, Mcihael Eugene
Lee, Xavier Louis
Lewis, Alonzo Michael
Lewis, Joshua Emanuel Wayne
Linville, Matthew Wayne
Lisenby, Emily Gordon
Littrell, John Milton
Lloyd, Eric Jr.
Logan, Edward Eugene
Long, James Keith
Long, Kenneth Ray
Lopez-Pinelo, Maynor Manuel
Lynch, Timothy Patrick
Malone, Sabrina Walker
Mangum, Jessica Ann
Mansell, Jeremy Heath
Marinez, Webster Luna
Marshman, Ramonn
Martinez, Enrique
Martinez, Juan Steve
Matlock, Gary
Mayhall, Daniel Christopher
Mayo, TJ
McAlister, Carrie Reed
McCann, Monica Graham
McCaulou, Cody Lynn
McDaniels, Bobby Louis
McDonald, Travonnel Udionn
McGoogan, Benjamin D
McKenzie, Kevin Patrick
McLemore, Bentley
McMahan, Phillip Brent
Mcnatt, Joseph Kyle
McWilliams, Aaron
Means, Jason Wade
Melton, Christopher Kelly
Miller, Donald Eugene II
Milstead, Charles
Mitchell, Amanda Regina
Mitchell, Jeremy Lee
Mitchell, Kathryn Elizabeth
Mitchell, Kenneth Lyle
Moles, Cody Allan
Moore, Brandon Michael
Moore, Carlos Antonio
Moore, Daren Lynn Jr
Moore, Dawn
Moore, Justin Earl
Moore, Samuel Leal
Morrow, Daniel Tyson
Murphy, Dylan Matthew
Murray, Tyler Chase
Nava, Rogelio Alejandro
Neal, Harold David
Nelson, Chad William
Netherton, Brandon Lee
Netherton, James Matthew
Nichols, Eric Keith
Noel, Ambre Ailehs
Oathoaut, River Scott
Obryant, Thomas Randall
Olive, Devie Ronyon
Olive, Tammy Marie
Oliver, Dwayne Lee
Oltmer, Jacetin Hunter
Orrell, James Edward
Osepczuk, Brandy
Oswalt, David Matthew
Page, Raileeyia Madawine
Parker, Zontez Raynard
Pearson, James Randall
Pearson, Kevin Dewayne
Peck, Shawn Gregory
Peden, Miranda Gail
Peever, Kenneth Robert Jr.
Perez, Ferando Rosette
Perry, Robert
Phillips, Amanda Kaye
Pickett, Jason Cody
Pigg, Billy Wayne
Pitts, Ricky Dale
Poague, Jason Edward
Presley, Robert Aaron
Puckett, Isaac L
Pugh, James Hollis
Pugh, Timothy Shane
Putman, Anthony Tyler
Quavillon, Lauren Nicole
Quigley, Sarah Evelyn
Ramos, Carlos Adria
Ramos, Jaime Gutierrez
Ratliff, James Gregory
Ray, Billy Lloyd
Rhodes, Bradley Stephen
Richardson, Wesley Brent
Ricks, Maria Antonette
Rider, Marcus Alvin
Riley, Dustin Wayne
Riley, Jennifer Denise
Riley, Kesha Leana
Riley, Rhyan Andrew
Roberson, Skylar Payton
Roberts, Heidi Noel
Robertson, Brandy Shay
Robinson, John Aaron
Roddy, Jacob Brent
Rogers, Jimmy Lee Jr
Rogers, Melinda A
Roland, Joseph Randal
Rone, James Earl
Rose, Jeremy Lee
Ross, Casey Lee
Ross, Leighton Tremayne
Rosson, Cynthia Carolyn
Rowell, Michael Edward
Rowell, Theus O'Bryan
Rumbaugh, Charlena Dale
Russell, Melissa Alice
Saint, William Matthew
Sanchez, Rivera Edgardo Luis
Santistevan, Tara N
Scott, Zeth
Searcy, Ricky Wade
Sedgwick, A Johnathon
Serdaru, Emir
Sharp, Brandon Berry
Shaw, Dewey Clifford
Sheaks, Dale Edward III
Shirley, Brandon Lee
Short, Tiffany
Simmons, Shelly Renee
Simpson, David Borda
Simpson, William Anthony
Sinyard, Russell Oneal
Smith, Austin Caine
Smith, Benjamin Tyler
Smith, Denise Marie
Smith, Heidi
Smith, John W
Smith, Robert Daniel
Smith, Steven Christopher
Snodgrass, Sara Ellen
Sparks, Cheryl Mccoy
Springer, Morris Lynn
St Andrew, Samantha Marie
Stacy, Bobbie JO
Staggs, Haleigh Grace
Staggs, Joseph Daniel
Staggs, Kennedy Brook
Staten, Travis Wayne III
Stephens, Kevin Kent
Stewart, David Todd
Stewart, Jessica
Stockman, Samuel Paul
Stricklin, Paul Arthur
Stringfellow, Katy Bennett
Stults, Kayla Michelle
Summerhill, Jessica
Sweeney, Nautica Earline
Taveras, Roger J
Taylor, Gary Waylon
Taylor, William Anthony Jr
Terry, Curtis Johnson Jr.
Thompson, Alvin Wade
Thompson, Jennica M Leigh
Threet, James Edward
Tidwell, Paul Nathan
Tidwell, Ted Tid
Tucker, Michael John Garrett
Turner, Robert Lee
Turner, Trevane Ohara
Tutor, Samuel Paul Jr.
Voss, William Shannon
Walker, Damian O'Bryant
Wallace, Christopher Lee
Watson, Adrian Evan Richmond
Watson, April Michelle
Watson, Jamie Ray
Wayne, Benjamin Wesley
Weakley, Michael
Webster, Carlos Wayne
Whisman, Roger Dale
White, Darryl James
White, Jason Andrew
White, Pierce Marcus Harrison
Whitson, Lakisha Shaire
Williamson, Jalissa Deodgane
Williams, Matthew Lucas
Willis, Tyler
Winstead, Laura Anne
Winters, Jessica Layne
Wisdom, Frederick Dewayne Jr.
Womble, Robby Dwayne
Wood, Dustin Heath
Wood, Terry Lee
Woods, Anthony Jay
Woods, Zachary Lynn
Wray, Connie Holder
Wright, Anthony Tremayne
Wright, Sheri Jones
Young, Benjamin Owen
Young, Gary Allen
Young, Jamaal Andrae
Young, Terrance Oneil
Zeitner, Gregory Walden
Disclaimer: Every effort has been made to ensure that the persons on this list have valid active warrants in Lauderdale County, Alabama. If your name appears on this list in error, please notify the Lauderdale County Court Clerk's Office at (256)760-5724 or (256)760-7599.
| | | | | |
| --- | --- | --- | --- | --- |
| LAUDERDALE COUNTY WORTHLESS CHECKS WARRANTS | | | | |
| (Last Name, First Name, Middle Name) | | | | |
| ABERNATHY, SUSAN DENISE | $2,722.99 | | | |
| ADAY, JASON DALLAS | $1,757.28 | | | |
| AGEE, MARK STEVEN | $1,944.44 | | | |
| ARNOLD, DONNA F | $2,349.52 | | | |
| BARGER, VICTORIA | $806.82 | | | |
| BOGGUS, KAWANDA | $289.75 | | | |
| BROWN, BRITTNAY | $2,963.02 | | | |
| BURBANK, JUSTIN DANIEL | $1,126.88 | | | |
| BURDETTE, MARY E | $319.03 | | | |
| BURNS, THOMAS LYNN | $3,420.93 | | | |
| BUTLER, STEVEN BROCK | $294.00 | | | |
| COLE, SHERRY D | $284.00 | | | |
| CORUM, DEBORAH | $275.48 | | | |
| DEFOE, ANTHONY | $1,157.83 | | | |
| ENGLAND, SUZANNE | $2,939.49 | | | |
| FOUST, PAULA KAYE GIBSON | $2,157.11 | | | |
| FREEMAN, REGINALD | $274 | | | |
| HARRISON, DONNA | $256.38 | | | |
| HESS, PAULA | $278.17 | | | |
| HUGHES, HEATHER | $771.53 | | | |
| INGRAM, NINA | $802.00 | | | |
| KELLEY, LISA MARIE | $1,145.78 | | | |
| KING, KIMBERLY RENEE | $579.25 | | | |
| LACK, MITCHELL DEWAYNE | $784.43 | | | |
| LOVELACE, JUSTIN DEJUAN | $518.95 | | | |
| LOVELACE, LILLIAN BRIANNA | $480.65 | | | |
| MONTGOMERY, SONJIA | $373.47 | | | |
| PERRY, JEFFREY WAYNE | $2,137.76 | | | |
| REED, THOMAS WAYNE | $3,538.07 | | | |
| RICKS, ORA, SHUNTA | $1,393.00 | | | |
| SCHWARTZ, DEANNA | $527.33 | | | |
| SOUTH, PATRICIA | $262.30 | | | |
| SUMMERHILL, LINDA FAY | $568.66 | | | |
| TAPSCOTT, CANDICE | $835.88 | | | |
| THOMPSON, RONALLDUS | $258.69 | | | |
| THOMPSON, TIMOTHY JORDAN | $984.00 | | | |
| WHITE, JENNIFER RENA | $1,261.29 | | | |
| WHITWORTH, MICHELLE DAWN | $296.14 | | | |
| WILLIAMS, ANGELA | $1,189.65 | | | |
| | | | | |
| DISCLAIMER:  Every effort has been made to ensure that the persons on this list have valid active warrants in Lauderdale County, Alabama.  If your name appears in error, please notify the Lauderdale County District Attorney's Office at 256-764-6351. | | | | |
| | | | | |
| | | | | |
| | | | | |
| | | | | |