This is an archived article and the information in the article may be outdated. Please look at the time stamp on the story to see when it was last updated.
CENTER STAR, Ala. - We've learned some disturbing details about a shooting which injured a woman late Wednesday night in Lauderdale County.
On a darkened portion of County Road 412 in Center Star, deputies responded to a domestic violence call with shots fired. When they arrived, they found the female homeowner shot by her 39-year-old son.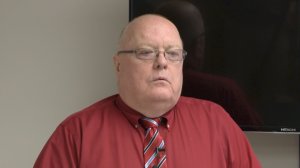 Chief Deputy Richard Richey responded to the scene, "She was concerned about his drinking. One thing led to another and he left the room. When he came back in he had a rifle in his hands and told her that he was going to kill her."
According to Richey, that's when Lee Allen Martin Jr. pulled the trigger, shooting his mother in the leg. But Richey said it didn't stop there.
"He pointed the gun at her head and told her to close her eyes, he said that I am going to kill you," stated Richey. "Which she refused to do that."
Richey said after a few words between the mother and son, he handed her the gun and asked her to shoot him. That's when the victim was able to leave and drove herself to safety.
The victim's 14-year-old grandson witnessed what was going on and ran to a neighbor's home for help.
"It's sad for him because there his dad is trying to harm his grandmother," Richey said.
Richey is just glad the victim will be able to recover and her son is behind bars, charged with attempted murder.
Lee Martin Jr. remains behind bars at the Lauderdale County Detention Center. His bail is set at $50,000.
The victim is continuing to recover at ECM Hospital in Florence.