This is an archived article and the information in the article may be outdated. Please look at the time stamp on the story to see when it was last updated.
FLORENCE, Ala. – It's a disturbing case of sexual abuse involving a child out of Lauderdale County. A grand jury has handed down multiple felony charges against a man during their most recent session.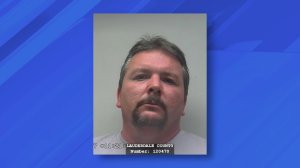 There are details so chilling in the indictment it will turn your stomach. 46-year-old Billy Wayne Holder is accused of sexually abusing a teen girl for more than a dozen years.
It's taken law enforcement almost a month to track Holder down since his indictment.
A Lauderdale County Grand Jury hit him with four felony counts which include rape, sexual abuse, sexual abuse of a child under the age of 12, and sexual torture.
According to the Lauderdale County Sheriff's Office, they had to enlist the help of the U.S. Marshal's to track Holder down. He was taken into custody in Giles County, Tennessee.
Investigators working the case said Holder began abusing the girl when she was an infant.
The same investigator said the abuse continued into the girl's teenage years.
To protect her identity investigators are not releasing how Holder knew the victim.
We were told the victim recently entrusted a friend with what was going on, and they sought help.
Billy Holder is being held at the Lauderdale County Detention Center on bail totaling $126,000. He is set for arraignment on October 30, in circuit court. If he does make bond, Holder can't have any contact with the victim either directly or indirectly.
Investigators don't believe at this point there are any other victims in the sexual abuse case involving Billy Holder.